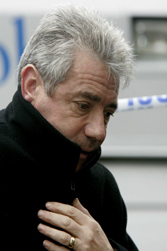 Manchester City have confirmed that manager Kevin Keegan has left the club.
The former England coach quits after just over three-and-a-half years in a move that is expected to mark the end of an eventful career in football management.
"We all believe this is in the best interests of the club," said an official club statement.
"Kevin has brought stability to a club that was very much in need of solidity and consolidation," the City statement added.
"Kevin's professionalism, infectious enthusiasm and drive for success have benefited all areas of the club.
"The board and staff of the football club would like to thank Kevin for his valued contribution to all aspects of our organisation and wish him and his family all the very best for the future."
Until the club appoints a permanent successor, coach Stuart Pearce will be responsible for first-team affairs. Pearce will be a contenbder to fill the vacancy and media reports have also linked Celtic's Martin O'Neill and former Southampton boss Gordon Strachan with the job.
Keegan, who had previously managed Newcastle, Fulham and England, took over as City manager on 24 May 2001 and guided them to the old Division One title in his first full season.
Keegan announced last week that he would not stay at the club after his contract terminated in 18 months time, but following Monday's home defeat to Bolton he sounded like a man who had already had enough.
"We've got a history of not building on good situations," he admitted.
"We could have jumped into the European shake-up, again we couldn't make that leap.
"That's seven or eight times in a year we could have jumped into something good for this club and we've failed."