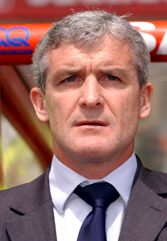 Euro 2008 Top Goalscorer. Click here for the latest odds!
Mark Hughes has been appointed as the new manager of Manchester City.
Hughes held talks with City officials on Tuesday evening and agreed to leave Blackburn on a three-year contract.
City owner Thaksin Shinawatra said: "He's an outstanding manager who has achieved many things with Blackburn.
"Mark was always the first choice of our new executive chairman, Garry Cook. Together they will make a great team. They will both prove to be excellent acquisitions, I'm sure.
"These are exciting times for Manchester City and I hope the supporters can understand that I share their goals.
"That sometimes means making ruthless decisions. Now we can go forward to a new era, with a new management structure and great hope and ambition."
Cook added: "In our view Mark is the brightest young manager in the game and he was our number one target for the manager's job.
"He made it clear to us from the moment we met that he shared our vision and ambition to make Manchester City one of the top sides in the country.
"The club intends to invest in new players as well as securing the long term services of key members of the current first team squad.
"Mark has already identified some of the players and backroom staff that he wants to see here at City, and we will begin the process of recruiting them immediately."
Hughes guided Rovers into Europe twice, but recently admitted he might have to leave the club to satisfy his mangerial aspirations.
Blackburn chairman John Williams paid tribute to Hughes.
He said: "We have enjoyed a first-class, mutually beneficial relationship with Mark.
"He leaves the club in a strong position with three consecutive top 10 finishes and an excellent squad of players.
"In turn, we have helped Mark to establish himself as one of the most sought-after young British managers in the business, having previously had no club management experience.
"We wish him well. We would have liked him to stay on, but he made it clear he wanted a fresh challenge."