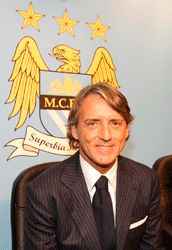 Portsmouth host Leicester in a repeat of their midweek Carling Cup fixture – See all the best football tips and predictions at easyodds.com
A former Manchester City coach has blamed manager Roberto Mancini's training methods for the club's growing injury list.
Raymond Verheijen, who worked for the club under former manager Mark Hughes and continued for the second half of last season when Mancini took charge, has hit out at Mancini's gruelling training regime, saying he "feels sorry for the players".
City striker Carlos Tevez and former player Craig Bellamy have publicly criticised the training regime under Mancini.
Despite their expensively-assembled squad, City are struggling with injuries and Mancini has only three fit defenders to choose from for Saturday's visit of Premier League leaders Chelsea.
Verheijen wrote on his Twitter account @raymondverheije on Thursday: "I just read an article about the enermous amount of injuries at Manchester City. Hopefully Mancini will finally question his training methods. I really feel for the Man City players. They are having a difficult time. Hopefully none of them will suffer a career threatening injury."
Verheijen, who has been working with Bellamy at Cardiff City, added: "Thankfully … Craig Bellamy was able to escape this training regime to save his career."
In an interview with FC Business magazine, Verheijen claimed City went from being the fittest and most injury-free team in the Premier League to becoming an injury-plagued squad directly as a result of Mancini's training schedule.
"During pre-season and the first half of last season Mark Hughes had all his players available," Verheijen said. "City played each game with the same team. The team had the best Prozone [computer data] statistics of the Premier League during the first part of the season. The players had the highest number of sprints and the highest total sprinting distance of all the Premier League teams.
"After the arrival of Mancini things changed dramatically. He probably did not even look at the Prozone statistics and our best-injury record in the Premier League. He decided players had to do double sessions many times a week. Those sessions often lasted for two hours. Not surprisingly the players picked up eight soft-tissue injuries within the first two weeks of Mancini."
A City spokesman dismissed Verheijen's comments as sour grapes, saying: "Mr Verheijen appears to have become a regular critic of Roberto Mancini's training methods, perhaps not entirely coincidentally since his consultancy services at Manchester City were terminated by the club several months ago. We wish him well in his future practice."
Portsmouth host Leicester in a repeat of their midweek Carling Cup fixture – See all the best football tips and predictions at easyodds.com
Make sure you don't miss any of the last news and articles from World Soccer. Subscribe to World Soccer today and take advantage of our all 50th anniversary offer, saving up to 50%!