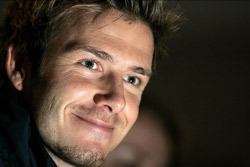 Tottenham have won their last three home league games against Newcastle. Click here for the latest Tottenham v Newcastle odds!
David Beckham has denied his decision to move to LA Galaxy was motivated by financial gain.
The 31-year-old will earn £128m over five years after agreeing to leave Real Madrid for the Major League Soccer side at the end of the season.
"I didn't want to go there at 34 years old and for people to say he's only going for the money. It's not what I'm going out there to do.
"I want to take soccer in the US to another level. I think it can go higher in America than anyone can believe.
"Soccer is huge all around the world except in America and that's where I want to make a difference with the kids."
The former England captain has not won any silverware since moving from Manchester United to Real Madrid in 2003, but he regards the move to Spain as a success.
"Regrets? No. I have never had any regrets throughout my life and career and I never want to," he said.
"I have to say thank you to (former president) Florentino Perez for giving me the chance to actually play for this huge team and to play in that white shirt was an honour for four years.
"To play with Zinedine Zidane was the biggest honour I have had in my career, to play with the likes of Ronaldo, Roberto Carlos… for me, there are no regrets there."
News of Beckham's move has been greeted as a watershed moment in the history of the game in the US.
"David Beckham coming to MLS might be viewed by some as one of the most important moments for soccer in this country and perhaps the history of professional sport," MLS commissioner Don Garber said in a statement.
"David transcends the sport and is a cultural icon. David is clearly one of the most recognisable athletes in the world.
"People are going to feel really good about David Beckham spending the rest of his career in the US."
LA Galaxy head coach Frank Yallop is relishing the prospect of working with Beckham.
"It's wonderful news for us, and we are really happy to have David joining us," said Yallop.
"He has proved himself over the years, and it will be wonderful to have him – and to be able to manage and coach him will be a dream come true for me.
"I see him playing centrally in our league. We have to get him on the ball as much as we can, making us tick.
"It's an athlete's game here, played at a little less pace than the Premiership.
"I think it will suit his game wonderfully well, because he will get to play his football and he will enjoy the players we have here. He will fit in nicely with our group."
Tottenham have won their last three home league games against Newcastle. Click here for the latest Tottenham v Newcastle odds!