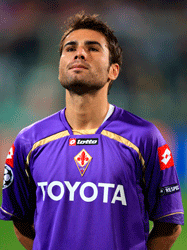 Milan are now a best price Evens to win Serie A after their 1-0 win over Cagliari put them 5 points clear
Romania forward Adrian Mutu has been barred from Fiorentina's training ground.
Mutu angered his bosses on Wednesday when he walked out of training following a meeting between his agent and the club.
And although he turned up on Friday, he was told to leave.
"Fiorentina has … decided to exclude with immediate effect the footballer Adrian Mutu from training and preparation," said a statement on the club's website.
"The decision was taken in light of the serious and retaliatory failure to fulfill his contractual obligations, inflicting serious sporting and economic damage to the club and showing the club a lack of respect."
Fiorentina also repeated their intention to sue Mutu for breach of contract.
Mutu, who was banned from playing for seven months after failing a drugs test while at Chelsea, was also suspended after failing a dope test in January last year, leading to a nine-month ban.
He has played only six games this season, scoring once.
Milan are now a best price Evens to win Serie A after their 1-0 win over Cagliari put them 5 points clear
Take advantage of the January sales by saving up to 36% on a subscription to World Soccer