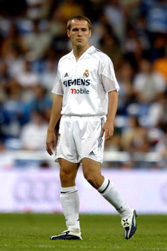 Michael Owen has admitted that he would be open to a return to Liverpool.
The England striker is finding it difficult to secure a regular starting spot at Real Madrid, and has been linked with a return to the Premiership.
Newcastle and Arsenal have been linked with moves for 25-year-old Owen, but he says that he would be willing to return to Liverpool if he quits Real.
"Would I return to Liverpool? I would have nothing against it if I had to move for one reason or another," he told Shoot magazine.
"I left Liverpool on good terms, they are still the first result I look out for and I have a lot of friends there.
"I have no bitterness at all to Liverpool and they are still a club very close to my heart.
"It's well documented I don't like sitting on the bench, so let's hope things improve."