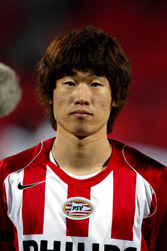 PSV Eindhoven midfielder Park Ji-sung has decided to join Manchester United, according to reports.
One of the player's agents claims he has decided to join United after discussi
"He has decided to join the English team," Kim Jeong-il told the Yonhap News Agency.
Kim Jeong-il works with the PSV player star on behalf of his main agent Chiel Dekker.
"We will inform the president of our company, Lee Cheol-ho, who is now in the Netherlands, of Park's intention," added Jeong-il.
The 24-year-old, who arrived in Europe in 2002 following an impressive World Cup campaign under then-Korean coach Guus Hiddink, has attracted plaudits in recent months following some eye catching displays in the Champions League.