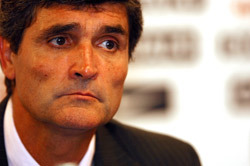 ENGLAND V GERMANY: Who will be the First Goal Scorer? Bent and AJ are 7/1 Click here for more odds.
Juande Ramos has declared his willingness to resign as Sevilla coach and become the new Tottenham manager, according to reports in the press.
Ramos met with the Tottenham club secretary John Alexander and vice-chairman Paul Kemsley in Seville last Friday. And although both parties tried to downplay the significance of the meeting, Martin Jol's position at Tottenham appears to have become untenable.
Ramos is reportedly waiting for a formal offer from Tottenham before handing in his resignation with Sevilla.
According to a report in today's Guardian Jol's relationship with the Spurs board has deteriorated rapidly since the start of the season. There was even a suggestion that he recently asked his chairman, Daniel Levy, to sell Dimitar Berbatov after the Bulgarian reacted angrily to being substituted against Sunderland on the season's opening day, only for Levy to back the player.
Ramos has always harboured a desire to coach in England and was linked with a move to Manchester City in the summer. Having won the Spanish Super Cup, defeating Real Madrid 5-3 at the Bernabéu on Sunday, he believes he can leave Sevilla with his head held high.
He still has a year remaining on his deal, although he could have walked away upon payment of as little as €500,000 had he quit by July 7, but the question of financial compensation to Sevilla will now become an issue.
Sevilla remain hopeful that Ramos will stay on as the club's coach.
"From the club's point of view, Ramos has one year left on his contract with Sevilla," club sporting director Ramon Rodriguez told PA Sport.
"There's no doubt that we want him to continue."
Jol's position meanwhile, looks unsustainable. After starting the season with successive defeats away at Sunderland and at home to Everton, Tottenham's aspirations of a place in the top four looked unrealistic. Although the Dutchman can cite numerous injuries to his squad in the opening week of the season, it would appear that the board's patience has worn thin, and a change at the top now looks inevitable.
Jol looks ahead
However, despite the ongoing speculation, the former RKC Waalwijk coach has chosen to concentrate on next weekend's visit to Manchester United.
"It won't be easy going to Manchester United for our next fixture, but we will take a lot of confidence from this result," he told the club's official website.
"Some players could be available again as we still had a lot of players out but, for me, this is no excuse. We need the points, we have to play well and we have to entertain the crowd. That is what we are there for and that is what we certainly did on Saturday.
"It is Old Trafford for us next and Manchester United, like us, have not got off to the best of starts and we are now a point ahead of them. They are probably the biggest club in the country and everybody knows Sir Alex Ferguson will get them winning again soon.
"They have some new players that need to be bedded in and, along with the injuries, this can create a problem. Alex is strong though, he will get them playing better, but hopefully not against us."
ENGLAND V GERMANY: Who will be the First Goal Scorer? Bent and AJ are 7/1 Click here for more odds.