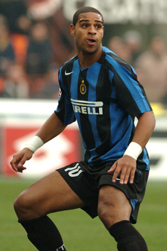 Real Madrid boss Wanderley Luxemburgo has confirmed he would be interested in signing Internazionale's Adriano.
Real president Florentino Perez revealed last month that he would like to bring the Brazilian to the club and Luxemburgo shares his enthusiasm for the Brazilian.
"Adriano? Who wouldn't like a player like that?" said the Real coach when quizzed about the possibility of signing the attacker.
However, aware that he currently has an abundance of striking talent at his disposal, Luxemburgo said he was prepared to bide his time.
"But for the moment I'm absolutely satisfied by the forwards I have – Raul, Owen, Ronaldo," he added.
Adriano seems certain to spark a transfer scramble if he becomes available, with Chelsea anotheer club known to be keen on acquiring him.
Inter coach Roberto Mancini is not surprised that several top clubs are interested in signing the striker.
"It is only normal that the great clubs want him but he has a long contract with us," said Mancini.
"Adriano is happy to stay here and hopefully we can help each other to win some major trophies.
"However, I must admit that it is hard to predict what will happen in six or seven years as the player is still so young."