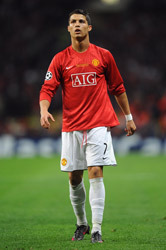 Cristiano Ronaldo has once again reiterated his desire to stay at Manchester United amid fresh speculation about his future at the club.
Reports over the weekend suggested that Real Madrid had agreed a price for the winger but that has now been dismissed by United boss Sir Alex Ferguson.
"I am happy at this club. I think it is the right club," Ronaldo said.
The latest reports also suggested that Real had stepped up their interest after hearing that the Portuguese international was growing tired of the constant rough treatment he receives in England.
But the Ronaldo admitted that this season was no different to the previous five at Old Trafford.
"It has always been like that," he added.
"It is only normal this season that the defenders have kicked me to try and stop me. It is just normal."
United returned to the top of the Premier League on Sunday with a last-gasp 3-2 win over Aston Villa thanks to a brace from Ronaldo.
"We are the best team in England. We have shown that by being top of the table. That speaks for itself." he insisted.
"We respect all our opponents but if we carry on winning, we will win the title again. We have a chance to win everything this season.
"First we have to beat FC Porto. After that, we must carry on."
Ronaldo also sees similarities between his own debut against Bolton in August 2003 and 17-year-old Federico Macheda's first appearance for the senior team on Sunday.
The Italian youngster curled a last-minute winner past Brad Friedel to ensure a valuable three points for the champions.
"It's similar to me," he pointed out.
"The feeling is quite the same. I remember when I started to play for Manchester against Bolton when I came on (with) 70,000 supporters – it's not easy.
"I play good, I did good skills, good passes. When Kiko (Macheda) scored I know what he is feeling, it is one of the best days of his life.
"He is young and he can still improve and he is good. It is good to be involved with the first team and he scored a goal to help the team.
"I am really, really happy for him."
For more fascinating features, subscribe and save 30% and use the below link?