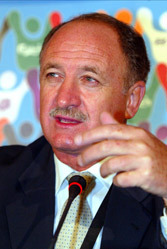 Premier League Fixtures – The start of the new Premier League season might still be a while off, but the fixtures are already out and we've got all the early match betting – Aug 16th
New Chelsea manager Luiz Felipe Scolari believes the club can complete a clean sweep of trophies next season.
The Brazilian said his squad is strong enough to challenge for the Premier League, the FA Cup, Carling Cup and Champions League.
"We have four competitions this season and I'll try to win all four," he said.
"It will be very difficult but we have the team for it, we have the players for it. Chelsea have also given me everything I have wanted."
Chelsea ended last season empty-handed after losing in the Carling Cup and Champions League finals and finishing second to Manchester United in the Premier League.
"I try and give confidence to my players," continued Scolari. "They sometimes make mistakes but I tell them that this is normal as long as they train hard. If they do their best the rest is my problem."
Chelsea have been impressive on their pre-season tour of Asia, beating Guangzhou Pharmaceutical 4-0 last week, while on Saturday they hammered Chengdu Blades 7-0.
"I know who my key players are," confirmed Scolari ahead of Tuesday's match against a Malaysian League Select XI.
"I have had 15 days with them and I know who is important for us to play more games than other players.
"You need to build a team around a few players in essential positions for important games and I now know who they are.
"I have in my mind one idea for the team to play against Portsmouth but until then I want to see how the players train.
"I have a minimum of 75% of the team in my mind but I need to know the other 25%."
After Tuesday's friendly, Chelsea will head to the Luzhniki Stadium, the venue of last season's Champions League final defeat by Manchester United, for a match against Lokomotiv Moscow.
Blues captain John Terry, who missed what would have been the winning kick in the penalty shoot-out defeat at the hands of United, conceded that returning to the Russian capital would be "weird" but said he was ready to concentrate on the forthcoming season.
The defender said: "We have made some great signings. With players like Deco and Jose Bosingwa coming to the club, there's no point me thinking, 'Oh, I could have won the Champions League that year' when I'm 35 or 40. I still have some great years ahead of me.
"With the manager we have, I have still got a great possibility of winning it.
"It's down to myself to drive this team forward again and push to get to where we were last season and further.
"We showed great strength of character with all the disappointments we had last season, with the changes in manager. We showed what a great team we are.
"Now we have a manager who can lead the team as well."
Premier League Fixtures – The start of the new Premier League season might still be a while off, but the fixtures are already out and we've got all the early match betting – Aug 16th