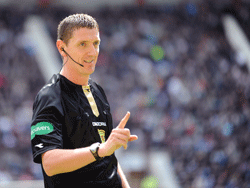 It's a MIDWEEK SPECIAL! Easyodds tipsters Simon Hopper and Tom Powell are on hand to guide you through the best Champions League betting value. See their top tips here.
The weekend's Scottish Premier League programme will go ahead as scheduled after the Scottish Football Association reached an agreement with "several European national associations" to hire replacement referees.
The weekend of top-flight fixtures in Scotland appeared to be in jeopardy after Category 1 referees opted to strike in the wake of what they feel is harsh criticism from players and managers.
With no resolution in sight, the Scottish Football Association have now confirmed that 'substantial progress' has been made and that all matches will go ahead this weekend.
"There's been a period of activity this morning in trying to ensure we have a contingency in place," SFA chief executive Stewart Regan told Sky Sports News.
"Our primary concern is to make sure the fixtures can be officiated and we're delighted to say we've made substantial progress with that regard.
"We've put together a priority list which has received Board approval this morning.
"We have a number of contractual matters to address, the televised matches and those in the Premier League have taken priority.
"We have been able to cover additional Premier League matches as well as the Alba Cup on Sunday.
"As we sit here we're making further progress with associations right across Europe. We will be able to cover additional matches.
"We'll have addition news later in the day. A series of matches, especially those that were contractual obligations, are covered.
"There are too many nations to mention. We've had support from a number of associations and we're very grateful to those who have backed us."
Intolerable pressures
Meanwhile, earlier in the day, the referees explained why they felt they had to act.
"As indicated earlier this week, at Sunday's scheduled SFA monthly meeting of category one officials it was decided unanimously to withdraw availability for appointment this weekend November 27-28," read the referees' statement.
"The meeting concluded that the incessant and adverse nature of recent comments on referees had placed intolerable pressures on personal and professional lives and that statements questioning honesty and integrity aimed across refereeing in general had led to an unprecedented level of abuse and genuine concerns for safety and for the ability to carry out normal family and business commitments.
"Last night, all category one referees ratified their original decision. It was also stated at the time that the group appreciated the full impact this decision will have on fans this weekend and for that reason it was not taken lightly.
"However, it was believed to be necessary in the current climate and that it will hopefully put an end to the more extreme attacks on referees. It was not a 'bargaining chip' aimed at soliciting 'quick fixes or deals'.
"It was instead a genuine call for a moment of reflection by all who love the game in Scotland and a desire to see a real and fundamental reappraisal of football's and society's relationship with its referees.
"The group felt this was needed for the good of the game overall and made it clear to all on Monday that this was not an industrial relations dispute that could be speedily negotiated away to avert 'action'.
"The category one officials have welcomed the level of support received from fellow officials both at home and internationally, as well as that from others within the game and wider Scottish life.
"Discussions took place this week with the SFA and leagues and constructive progress was made on mainly long-term objectives which, if achievable, will begin a proper process to underpin the integrity and standing of referees in this country.
"After this weekend, the referees will return to the field and will continue dialogue with the governing body to develop well-thought through and meaningful measures in an environment of mutual respect."
It's a MIDWEEK SPECIAL! Easyodds tipsters Simon Hopper and Tom Powell are on hand to guide you through the best Champions League betting value. See their top tips here.
A subscription makes the Christmas perfect gift. Give a lasting gift this year and save up to 33% when you subscribe.