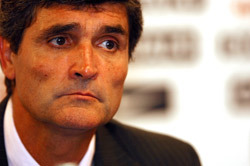 Man Utd have had their worst start in 15 years, click here to see how this has changed the Premiership betting odds.
Sevilla coach Juande Ramos has played down the significance of a reported meeting with Tottenham Hotspur officials.
Spurs have denied claims that they are looking for Ramos to replace current incumbent Martin Jol.
"We are a club that are aiming for the top four, so we have to accept that there will be speculation if it appears that things are not going to plan," said a club spokesman. "But we are not at this point in time negotiating with any manager to replace Martin Jol."
Ramos, meanwhile, believes the reports may have been designed to unsettle Sevilla ahead of their Spanish Super Cup clash against Real Madrid last night.
"When we play an important game like this, news of this kind always comes out," he said.
"I was in the hotel because a friend came who had nothing to do with football."
Spurs thrashed Derby 4-0 on Saturday to earn their first win of the season but there were still concerns over Jol's position following reports in Spain of Ramos' meeting.
"I would not have made a big bet on my situation," admitted the Dutchman.
"I thought that there were whispers last year and there will be whispers at any club all the time. The only thing for me is that it was a bit early (in the season). But as a foreigner, you have to prove yourself. The top five clubs have foreign managers so that is not easy to take on the chin, you know. So I have to do better."
"I always think of David Moyes and Everton," he continued. "He had a very good year [finishing fourth in 2005] and the year after was horrendous and no one said anything. And now they have a very good team and he will challenge for the top six. You should leave me be. If you are Arsenal or Liverpool, how many players would you take from our team? If it is more than six or seven, we have to be fourth but if it is only one or two, then fifth is over-achieving."
Jol retains the backing of his players, with Steed Malbranque running to the dug-out after scoring the opener against Derby.
"We all followed him," said Jermaine Jenas, who added a third after Malbranque had scored a second.
"We wanted to get everyone together, not just the manager, the coaching staff as well. People talk and create pressure, but we're a team and we stick together and that includes the manager and everyone at the club.'
In the meantime, Jol is looking ahead to next weekend's clash against Manchester United.
"We need the points,' he admitted. "Hopefully as a manager you want time to build a team and we've got a fairly good chance.
"And nobody before me, in the last 20, 25 years did the same as me with so many points."