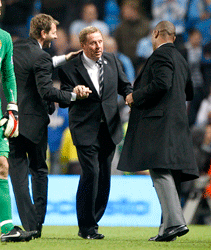 Blackpool take on Nottingham Forest at Bloomfield Road in the 1st leg of their play-off semi-final – best betting here.
Tottenham manager Harry Redknapp believes his club deserve their place in next season's UEFA Champions League.
Spurs' 1-0 win over Manchester City on Wednesday night guarantees at least fourth position in the Premier League and a route into the qualifying round of the 2010-11 European Cup.
Redknapp is excited by the prospect of playing in Europe's elite club competition.
"It's fantastic," he told Sky Sports 2 It's been a terrific season for us, we've played some great football along the way and we deserve it.
"It was a good night, we played some good stuff and I could see the goal coming.
"Crouchy was fantastic, led the line, unbelievable. It was a good performance."
Tottenham captain Ledley King was thrilled with the 1-0 win.
"The supporters have been waiting for this for a long time, as the players have," he said.
"We've worked hard all season for this and you can see how much it meant today."
Tottenham will now have to go through qualifying to reach the group stages of Europe's elite competition.
"At the moment we're in fourth place. We still have to qualify for the Champions League," added King, who plays on despite a chronic knee injury.
"But that's why I still work hard to get on the pitch, because of moments like this."
King added: "It's been a topsy-turvy campaign this season, but I think we've shown the most consistency."
Defeated manager Roberto Mancini dismissed suggestions that he would leave the club in the summer.
Mancini to stay
When asked if he would remain in charge next term, the Italian told BBC Radio 5 live: "Yes, absolutely."
"We can work together and develop together. I want to win here, I want to be able to win here.
"I think I stay here. Why not? I work here four or five months and I think when you build a house you don't start from the roof but the basement. We work very well but we are near the roof.
"I am not a magician, I don't have a magic wand. We wanted this (fourth) place and we tried like Liverpool, Tottenham and Aston Villa.
"When you don't finish fourth this is football but we did a good job.
Blackpool take on Nottingham Forest at Bloomfield Road in the 1st leg of their play-off semi-final – best betting here.
Make sure you don't miss any of the last news and articles from World Soccer. Subscribe to World Soccer today and take advantage of our all 50th anniversary offer, saving up to 50%!