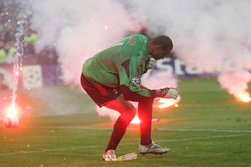 UEFA's Control and Disciplinary Body has ordered Internazionale to play their next six European matches behind closed doors.
In addition, Inter have been fined 300,000 Swisss francs and their quarter-final second leg has been awarded to Milan.
Of these six matches, the final two are under a probationary period of three years according to the disciplinary regulations.
This means that if a further offence is committed during the probationary period, the disciplinary body may order the original sanction to be executed in addition to disciplinary sanctions for the second offence.
Milan therefore go through to the Champions League semi-finals on a 5-0 aggregate.
Inter have three days to submit a written appeal against the punishment.
Uefa acted after crowd trouble forced Tuesday's quarter-final to be abandoned. German referee Markus Merk led the players off the field with 15 minutes remaining after a large number of objects, including flares and bottles, were thrown.
One of the flares struck Milan goalkeeper Dida on the shoulder, leading to Merk taking the teams off the field.
The trouble started when Merk's disallowed what appeared to be a legal headed goal by Esteban Cambiasso midway through the second half.
Play resumed for 30 seconds after a 20-minute delay before being abandoned when more missiles rained down.
The incident comes after a series of incidents at the weekend with the Italian government threatening to close some grounds after 85 police officers were injured across Italy.
On Thursday, the Italian government introduced strict measures designed to halt fan violence at matches.
The new rules, which take effect immediately, state that games will now be abandoned if objects are thrown from the stands. The team whose fans threw the objects will automatically be penalized with a 3-0 loss.