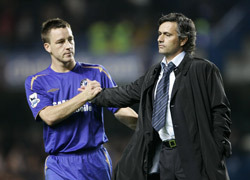 Compare football odds from over 25 bookmakers and claim £500+ in Free Bets. Click here for offer!
John Terry has urged Chelsea to retain Jose Mourinho as the club's manager for next season and beyond.
There has been speculation that Mourinho could be forced out of Stamford Bridge this summer but the club's captain believes any problem between his manager and Roman Abramovich should be repaired.
Chelsea still on course to win four trophies this season, Terry was asked whether Mourinho would be fired if the club completed the Qyuadruple.
"No, definitely not," replied Terry. "I don't see anyone leaving the club this summer at all. He [Mourinho] has been great for me and hopefully the club will do the right thing by him, by myself and Frank [Lampard] who are up for contract renewal.
"If we can keep Frank and the manager, we will achieve great things over many years. We are a tight-knit family and we want to keep it that way."
Mourinho and Abramovich spoke for the first time since January after Chelsea's 2-1 FA Cup semi-final victory over Blackburn on Sunday. But, there is concern within the dressing room at the reported rift between the two men.
"One thing we have at Chelsea is that we have always been very much together over the last two or three years," Terry added. "That has got us where we are at the minute and is a big factor in our success.
"Seeing the hug in the papers in the morning is great for every player. Picking up the paper and reading that from the manager is great. As a team, on the pitch and off the pitch, we are fully together and that's the main thing."
Mourinho's current contract runs until 2010 and the Portuguese has insisted that he wants to remain with Chelsea until then. Last week, though, he admitted he had received no assurances from the club about his future.
Terry is currently involved in contract negotiations with the club, and he confirmed there had been a breakdown in talks but he denied that his position would be influenced by the fate of Mourinho.
"Negotiations have broken down which they do with contract talks anyway," said Terry.
"There is no movement at the minute. I have been in and an offer has been made. But it's gone no further than that. I won't be making the next move. I want to stay for life and I have told the club that.
"Who knows when we will be speaking again? It's more important for me to be on the pitch doing the right things,. That's my role as captain. It's just broken down where we are.
"I'm not going to go in there when I have got so many more important things on my mind. The games are coming thick and fast and we have not got time to think about anything at the minute.
"Take Sunday, there was no celebration from the lads. We have got a game on Wednesday. It was a case of getting back on the bus and making our way back to London as soon as possible to rest and to train."
Compare football odds from over 25 bookmakers and claim £500+ in Free Bets. Click here for offer!