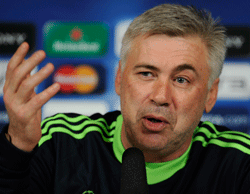 Listen to the thoughts of our in-form tipsters in the Premiership betting podcast!
Chelsea manager Carlo Ancelotti has written admitted that there is little chance of his side retaining the Premier League title.
The Blues are 10 points behind leaders Manchester United with 13 games left and have lost seven times this season.
Ancelotti's side are still to face United home and away this season, but the Italian sees that gap between the two sides as being virtually unsurmountable.
"Now for us it is difficult to think that we can come back and fight for the Premier League title," said Ancelotti, whose side face Fulham on Monday.
Instead, Ancelotti believes that sealing a top-four finish to secure Champions League football next season might be a more realistic target for his side.
"The gap is very big, we have to be honest," admitted Ancelotti.
"The most important thing is to reach fourth place in the table to maintain Chelsea in the Champions League and we have to fight with the other teams.
"It is better for us to take it game by game in the Premier League but we have to reach fourth place as a minimum."
Ancelotti was speaking at a press conference to unveil new signing David Luiz, but the media quizzed the Italian about Fernando Torres, who signed for a British record fee of £50 million on transfer deadline day, but ensured a disappointing debut in last Sunday's 1-0 defeat to Liverpool.
"My aim as a coach is to try and find the best solution with the players I have," said the Italian.
"In this squad (Didier) Drogba and Torres are fantastic strikers and we have to try and do everything to get them to play together."
Listen to the thoughts of our in-form tipsters in the Premiership betting podcast!
Take advantage of the sales by saving up to 36% on a subscription to World Soccer