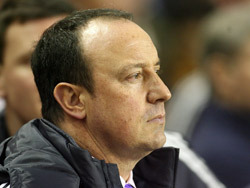 Liverpool boss Rafa Benitez claims Fernando Torres turned down a number of more lucrative offers to move to Anfield.
Torres is in Liverpool to put pen to paper on a six-year deal, and Benitez says the Spanish striker was determined to join Liverpool.
"Atletico Madrid had better offers and the player had better offers," Benitez told the Liverpool Echo.
"But he always wanted to join Liverpool. That was the key for me.
"We needed to work hard because there were other clubs who wanted him that we knew about – other clubs offering more money.
"But the player said straight away 'I want to join Liverpool'. He said we were his first choice and that was the key for me.
"He has taken a pay cut to come here. Okay he is still on a very good contract because he is a top player.
"But to be a successful club you need players with passion and Fernando has passion."