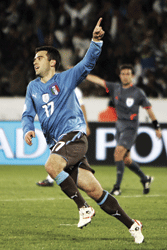 Simon Hopper is tipping both teams to score when Fulham host Newcastle tonight
Harry Redknapp has confirmed Tottenham made a club record £35million bid for Villarreal striker Giuseppe Rossi on transfer deadline day.
Spurs had already admitted making a string of ambitious bids for leading stars in Spain's top division, with an approach for Athletic Bilbao'sFernando Llorente also turned down.
Record moves for Atletico Madrid duo Sergio Aguero and Diego Forlan were also rebuffed and Redknapp has now come clean on the amount the club were willing to pay for Rossi.
Club chairman Daniel Levy was calling the shots on Redknapp's behalf and the pair are likely to attempt to make a marquee singing once again in the summer.
"Daniel always said that if we found the right player then we would have gone for him but it was difficult," said Redknapp.
"He tried something with Rossi. I think he offered £35million in the end.
"It's hard to get top players unless you pay top money. You couldn't get Rossi because Villarreal don't want to sell you him.
"The chairman would have bought someone for £30million though, for sure. He wanted to bring someone in.
"There was no doubt that he wanted to do it. He wanted to get somebody in and if Daniel and [Tottenham owner] Joe Lewis can find the right people they will have a go again."
With Tottenham's club record buy standing at the £16.5million paid for Luca Modric, Redknapp suggests big-money purchases were not the only targets on his agenda on Monday.
And the former West Ham boss admits his lowly bids for Everton's Phil Neville, reportedly in the region of £250,000 originally, were unacceptable to Toffees boss David Moyes.
"It was a pretty low offer for a good player. I couldn't argue with David on it," Redknapp said of a renewed £1.5million bid for Neville.
"He would have been a great signing for us. He is a leader, a captain, a character and he can play in three or four positions."
Simon Hopper is tipping both teams to score when Fulham host Newcastle tonight
Take advantage of the sales by saving up to 36% on a subscription to World Soccer