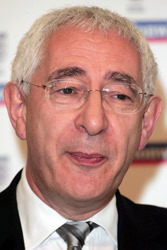 The Premier League is back this weekend and easyodds have the best betting on EVERY fixture here…
Former Football Association chairman Lord Triesman has denied he was the person responsible for making the changes made to Fabio Capello's contract as England manager last summer.
FA general secretary Alex Horne has claimed Lord Triesman "made a mistake" in failing to discuss changes to Capello's deal with the organisation's board, but Triesman insists he was not responsible for the revised deal agreed.
Triesman told Sky Sports News: "I never saw Fabio Capello's contract, not once. Changes to Mr Capello's contract were negotiated after I had left the FA and I know only what everyone read in the newspapers.
"My expectation would have been, in accordance with my normal approach, that those who conducted the final negotiation and signed the document would have taken the contract to the board. On one occasion, I met Fabio to discuss issues about his Capello Index. He wanted to know if we were unhappy about it and whether it would affect the break clause in his contract.
"Because I didn't intend to use a break clause in the circumstances and because England was doing very well, I said I had no such intention. This was around the final stages of the qualification phase of the World Cup. It is wrong to say I made changes to Capello's contract without the FA Board's approval."
The FA removed an exit clause in Capello's four-year deal shortly before the summer tournament in South Africa, a decision Horne admitted should have been referred to the board. Instead, it was taken by a handful of executives.
Triesman resigned as independent chairman following an unrelated newspaper sting before Capello's amended contract was actually signed.
Horne, who was the FA's acting chief executive at the time, told a Department of Culture Media and Sport committee inquiry into football governance: "I'll hold my hands up on behalf of David Triesman and say, in hindsight, it was a whole board decision and should have gone to the whole board.
"It did not go to the whole board."
After the hearing, Horne added: "He made a mistake."
Horne refused to identify the other executives involved in the decision but confirmed that some of them were still at the FA.
"I'm not comfortable sitting here naming four or five people," he said. "The decision has been reviewed internally and we hold our hands up to a corporate governance mistake.
"David (Lord Triesman) was the senior member involved as chairman of the association and clearly felt he had the authority to make that commitment. It was only after he left that the board questioned the decision."
The move had been taken to ward off interest from Italian clubs at a time when Capello's stock was still high following an impressive qualifying campaign for the 2010 World Cup finals.
However, after a disappointing World Cup campaign in South Africa there were widespread calls for Capello to be sacked immediately. Nonetheless, the FA chose to retain Capello's services amid suggestions that they could not afford to fire him following the removal of that break clause in his £6 million-a-year contract.
The Premier League is back this weekend and easyodds have the best betting on EVERY fixture here…