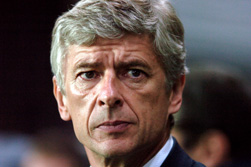 Arsenal boss Arsene Wenger is worried that the reported meeting between Ashley Cole and Chelsea will affect his preparations for tonight's crucial Premier League clash Manchester United on Tuesday.
A newspaper report claimed that Cole, 24, spoke with Chelsea boss Jose Mourinho and chief executive Peter Kenyon.
"The timing is not welcome before a big game. I find that coincidence just a little bit troublesome," said Wenger.
"If they want to buy him you should be capable of finding the phone number of Arsenal Football Club."
"If he had said to me that he didn't feel he could play as he was in the middle of a thunderstorm, then no, I wouldn't have picked him.
"But I know his strength of character and I have no doubt about that. I think you will see a great game from him."
Wenger refused to comment on the substance of the allegation.
"The rules of the game are quite clear so we're just getting on with our business," he added.
"If somebody has not respected the rules it is not Cole – it is Chelsea.
"If they don't behave as they should, it's down to the Premier League to start an inquiry and to get them punished."
"It looks to me like, yes, it has happened, although I don't know.
"Before we complain, we must have evidence the meeting has happened but I don't know how so much assertive evidence comes out in a newspaper.
"Ashley said he is fed up with that story, that he is completely committed to the club and he doesn't want to know about it.
"He wouldn't lie to me. But if you asked anybody who was in this meeting if it happened, nobody would say 'yes I was there'.
"I don't want to speak to Mourinho because if I asked 'were you in that meeting', I can guess the answer straight away.
"But I do know one thing, that if it happened, it was not on the initiative of Ashley because he wants to stay and I know that from him.
"What I don't want now is to shift that responsibility from Chelsea to Ashley Cole."