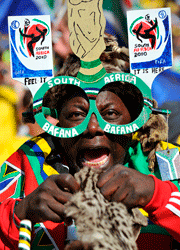 Today's opening World Cup game sees hosts South Africa take on Mexico – Tom Powell previews the World Cup betting.
The 2010 World Cup in South Africa is under way with the opening ceremony taking place at Johannesburg's Soccer City.
Thousands of fans have gathered for the launch ahead of the tournament's opening game between South Africa and Mexico.
It is the 19th staging of the tournament and the first time it has taken place on African soil.
One man not attending is former President Nelson Mandela, who withdrew after his great-granddaughter's death in car crash on the eve of the finals.
The Nelson Mandela Foundation released a statement saying it would be "inappropriate" for Mandela, or 'Madiba' as he is affectionately known in South Africa, to attend the opening ceremony.
"We are sure that South Africans and people all over the world will stand in solidarity with Mr Mandela and his family in the aftermath of this tragedy," added the statement.
"We continue to believe that the World Cup is a momentous and historic occasion for South Africa and the continent and we are certain it will be a huge success. Madiba will be there with you in spirit today."
Since it was chosen as the first African host of the World Cup in 2004, South Africa has spent about 40bn rand (£3.55bn) on stadiums, transport infrastructure and upgrading airports, although as the tournament gets underway there remain concerns about security issues in the country.
Journalists from China, Spain and Portugal were targeted in two separate armed robberies in and around Johannesburg on Monday and Wednesday.
However, Fifa president Sepp Blatter is confident the World Cup will be a success.
"Everywhere, one can feel, I hope, that this World Cup is very special, the first on African soil," he said. "We find ourselves in a position of indescribable anticipation.
"More importantly, this competition will prove that South Africa, and the African continent in general, is capable of organising an event of this magnitude."
There are 64 games in total, played at ten different venues, with the final taking place at Soccer City on Sunday, 11 July.
Today's opening World Cup game sees hosts South Africa take on Mexico – Tom Powell previews the World Cup betting.
Make sure you don't miss any of the last news and articles from World Soccer. Subscribe to World Soccer today and take advantage of our all 50th anniversary offer, saving up to 50%!