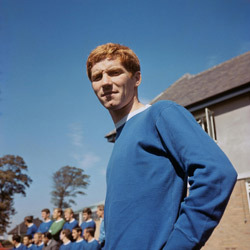 Fancy some FREE tickets to the FA Cup Final on May 19th? If so play or daily quiz for your chance to land a pair of the hottest tickets around. Click here to find out more!
World Cup winner Alan Ball has died of a heart attack at the age of 61.
Ball was the youngest member of the England side that won the World Cup in 1966 and went on to win 72 caps.
"It is with the very deepest of regret that Everton Football Club has to report the death of Alan Ball," the Premier League club said on their official Web site (www.evertonfc.com) on Wednesday.
The former Everton, Arsenal and Southampton midfielder won 72 caps for his country, scoring eight goals, before moving into management.
Ball becomes the second member of the side that beat West Germany 4-2 in the 1966 final at Wembley to pass away. Captain Bobby Moore died of cancer in 1993.
The industrious midfielder started his career at Blackpool and went on to play for Everton, Arsenal and Southampton before a spell in the United States.
His son Jimmy Ball told the BBC: "I was talking to him last night just after the football and he was in great form. We were talking about (Paul) Scholes' pass.
"And then I got a phone call in the middle of the night. It's unbelievable and very, very sad.
"I would like him to be known as a nice man with a passion for football. He had a big heart and was very generous."
Sir Geoff Hurst, who scored a hat-trick in the 1966 final, paid tribute to his former team-mate.
"He was the youngest member of the team and man of the match in the 1966 World Cup final," he said.
"Socially he was always a good laugh and the 1966 team mixed a lot after then.
"We are all totally devastated."
England team-mate Jack Charlton added: "Alan was a brave little fella. Everybody loved Alan; he was a lovely little lad.
"Every time I met him and spent time with him he was taking the mickey out of me, he was having a go at me. It was something we had going since 1966.
"I used to get annoyed with him and grab him by the shirt but it was only fun and we both knew it and I am going to miss Alan more than anybody because we had a tremendous relationship.
"I'm laughing now because I am thinking of Alan. I am not happy and I don't know why I'm laughing. It's just thinking of him. I've got so many good memories of Alan Ball."
Howard Kendall, who combined with Ball and Colin Harvey to form the 'holy trinity' at Everton, said: "We arrived at Everton in the same season and hit it off immediately.
"He was such a bubbly character, it was really Alan who made the partnership with me and Colin work as well as it did.
"This is a terrible loss for the club and for football. I'm devastated by the news, I have lost a friend and team-mate."
Ball was part of Everton's 1970 league championship-winning side and also appeared in the 1970 World Cup finals in Mexico.
Ball started his career with Blackpool before moving to Everton in August 1966 for a British record transfer fee of £110,000.
Eighteen months later, Ball was sold to Arsenal for £220,000.
He spent five years at Arsenal before joining Southampton where he had two spells, interrupted by a brief period in North American soccer, before finishing his playing career at Bristol Rovers in 1983.
Ball then went in to management, taking charge of Portsmouth (twice), Manchester City, Southampton, Blackpool, Stoke City and Exeter.
Ball was awarded an MBE in 2000 for his services to football.
Fancy some FREE tickets to the FA Cup Final on May 19th? If so play or daily quiz for your chance to land a pair of the hottest tickets around. Click here to find out more!