Headliner
Eight months may have passed since England's bid to host the 2018 World Cup finals collapsed amid acrimony, accusations of arrogance, allegations of bribery, and it has to be said, much merriment from the rest of the footballing world, but the issue refuses to go away. In England at least.
A report by MPs on the failed 2018 World Cup bid said the FA must undertake a review into what went wrong after England were eliminated in the first round with only two votes.
The select committee for culture, media, sport (and sour grapes) has – inevitably – criticised FIFA for the way they handled claims about bribery by members, and about unethical behaviour by members during the 2018 and 2022 World Cup bid campaigns.
Committee chairman John Whittingdale believes that should re-elected president Sepp Blatter not follow through with reform, then the FA might consider withdrawing from the organisation.
In an interview with London Evening Standard, Whittingdale said: "Ultimately, if it becomes plain that this body are simply incapable of reform, we will have to think about whether we want to be part of it. Withdrawal from FIFA would be the FA's nuclear option.
"Football is our national game. We want to compete in the World Cup. While England's recent performances have not been very impressive, it would be a big step to say we want to pull out.
"The thing about a nuclear deterrent is that you use it to bring pressure for change, without having to employ it."
If nothing else, withdrawing from international competition would offer England a fresh excuse when it comes to explaining their perennial 'underachievements' at major tournaments.
On the move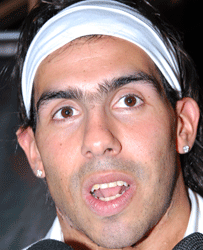 Carlos Tevez looks set to be on his way out of Manchester City, after the Argentinian striker issued a statement indicating he wished to leave the club in order to be closer to his estranged family.
"I need to be closer to them (family) and to spend more time with them," Tevez said in a statement.
"Living without my children in Manchester has been incredibly challenging for me. Everything I do, I do for my daughters.
Manchester City responded to the statement by reminding Tevez that he is still under contract and that the club had not received any offers for his services.
However, their resolve may be tested. On 8 June, he told an Argentine chat show host that he "would not even return there (Manchester) on vacation". To be fair, not many would.
Milan, Inter, Juventus and Real Madrid have all been linked with the striker.
Manchester is 6935 miles away from Tevez's home town of Buenos Aires, so his desire to move closer to his family makes perfect sense. Possible destinations for Tevez are Milan, Turin and Madrid, which lie 6934 miles, 6843 miles and 6246 miles respectively, from the Argentinian capital.
Hero
You know your team have put in a poor performance when they're overshadowed by the brief appearance of a dog on the pitch. Such was the fate of Brazil who have been lambasted in the press following their dismal goalless draw with Venezuela in their opening Copa America group game.
"When the most important moment of a football match is the entrance of a dog onto the pitch to milk the applause of fans then that gives you an idea of the quality of the match," O Estado de Sao Paulo commented.
Here's the dog enlivening a dull game.
Villains
Reports from Italy suggest that Inter will almost certainly see its 2006 Scudetto revoked when the (Italian Football Federation) FIGC convene for a final meeting into their findings from the revelations of the Calciopoli II trial in Naples.
Chief investigator Stefano Palazzi, who accused Inter of committing sporting fraud during the 2005-06 season. This had subsequently led to the Calciopoli scandal, which saw Juventus stripped of two Scudetti and relegated to Serie B, and Milan, Lazio, Fiorentina and Reggina docked points for the 2006-07 season.
Palazzi said: "Inter violated the article relative to sporting fraud with regards to the possibility of taking advantages in the standings."
The chief investigator has issued these statments in light of the phone calls that have emerged between former Inter President Giancinto Facchetti and the refereeing designators at that time.
Palazzi's findings mean that the 2006 Scudetto taken from Juventus and awarded to Inter will almost certainly now be revoked from the Nerazzurri too. Third that season were Milan, who were implicated and sanctioned in the original Calciopoli scandal, which means that in theory, the title could be awarded to fourth-placed Chievo.
Money talks
Much travelled and frequently injured forward, Harry Kewell, has come under fire from the Australian media for considering a return home to play in the domestic A-League, but then opting against the move for financial reasons.
The governing body baulked at his agent's demands for Kewell, one of which would have seen the player receiving a share of the gate receipts at away games. The news has brought much opprobrium on Kewell in his native Australia, with several commentators suggesting that the  32-year-old risked losing the respect of his fellow countrymen.
Robbie Dunn, a former Australian international and current coach of the Western Australian state side, "Demands like this could change fans' opinions of him." Though in Kewell's case, surely not by much.
Former Socceroo keeper Zeljko Kalac joined in the chorus of criticism of Kewell.
"Look what happened with John Aloisi (former Socceroo, Sydney FC and Melbourne Heart striker)," he said. "He was a victim of the tall poppy syndrome when he was at Sydney FC. It would be awful for Harry, who is an absolute icon of our game, if the same thing happened to him." Yes, truly awful.
Goal of the day
The splendidly-named Darlington Nagbe had never scored for Portland Timbers before. It's unlikely he'll ever score a better goal for them than the one he fired in against Sporting KC.
Stories we couldn't make up
A Russian women's football team has taken to the pitch in bikinis in a bid to boost exposure (literally!) and attract spectators.
FC Rossiyanka lead the Russian women's league, but struggle to fill their 5,500-seat home stadium near Moscow, and team manager Svetlana Juravleva has come up with a novel idea to boost the club's profile by arranging an exhibition match of "blondes versus brunettes".
"Our players are beautiful women with virtuoso ball skills and are in no way inferior to famous female tennis players and gymnasts," she said.
The remarks echo the words of Sepp Blatter when he was quizzed about the women's game in 2004.
"Let the women play in more feminine clothes like they do in volleyball," said the FIFA chief.
"They could, for example, have tighter shorts."
"Female players are pretty, if you excuse me for saying so, and they already have some different rules to men – such as playing with a lighter ball.
"That decision was taken to create a more female aesthetic, so why not do it in fashion?"
Blatterwatch
As if on cue, Blatter, as reported in Monday's World Soccer Daily, is currently investigating a match-fixing scandal in Zimbababwe.
The FIFA boss has vowed to come down hard on those found guilty of match-fixing.
"We cannot intervene at the first stage, we must let the jurisdictional organisation of the different states [take action] and when these people are condemned and found guilty then we will suspend them for life," he said.
"Then they will never come back to football – being officials or being players, they will be banned for life," the BBC quoted Blatter.
Although, the possibility of any of the suspects being presumed innocent and having all charges dropped, cannot be discounted.
Memories
History repeated itself  – after a fashion – in the FIFA World Under-17 World Cup finals currently taking place in Mexico. Germany's 3-2 win over England mirrored the last time the two countries met on Mexican soil. Then the stakes were somewhat higher with Germany again triumphing over the World Cup holders by an identical scoreline.
Goals from Monday's game can be seen here:
Highlights of the 1970 match, regarded as a World Cup classic, can be seen here:
Finally…
Inter favourite Marco Materazzi, who played the role of pantomime villain so convincingly during a violent decade at the San Siro, has revealed he was close to joining arch-rivals Milan six years ago.
(Roberto] Mancini did not believe in me and I was about to join Milan," the free agent said.
"It would have been a mistake, but otherwise I could have lost the [2006 Germany] World Cup. Then I spoke with [Italy Coach at the time, Marcelo] Lippi and he reassured me and changed my life."
One can only assume that Materazzi turned down the chance of a move to Milan because it would deny him the chance to enjoy his favourite pastime of kicking Andriy Shevchenko around the pitch.
Here's footage of Materazzi trying to maim his favourite opponent: