The manageress
A former Croatia Miss Sport finalist Tihana Nemcic has become the first woman to be appointed coach of a men's team.
The 24-year-old, who is also a member of Croatia's women's team, will coach Croatian fifth division side NK Viktorija Vojakovac. It's a start I suppose.
"I am the head coach and I have full liberty to create and plan the team's tactics," she told 24 sata.
"The guys know the game, but there is a lot more to do," added Nemcic, who has played for ten years for Dinamo Zagreb's women's team and the national squad.
Nemcic said that there was nothing unusual about her appointment and dismissed suggestions that it was a publicity stunt.
"If a woman and a man have the same professional qualifications for a coaching job, I see no reason why I should not get into male football," she said.
"We are a great team and we all want to improve and reach the top of our league."
Winter wonderland
Michel Platini has reiterated his call for the 2022 World Cup to be played in the winter, given the extremely hot summer temperatures in the host country Qatar.
Summer temperatures in Qatar can reach an uncomfortable 45 degrees Celsius and although Qatar has promised to invest in hitherto uninvented technology to create nine-purpose built air conditioned stadiums, Platini, wisely, remains unconvinced.
"I hope it will be held in winter. We have to go to Qatar when it is good for everybody to participate. What is better for the fans? Did you see in South Africa: it was freezing and nobody could go anywhere to a fan club or anything. You had to stay in the hotel," Platini was quoted as saying.
"In 10 years we can manage to decide how we can postpone the season for one month. January is difficult for the World Cup because you have the Winter Olympic Games. If we stop [the European season] from November 2 to December 20, it means, instead of finishing in May, we stop in June. It is not a big problem," he added.
Asked whether there was any possibility of the tournament being taken away form Qatar given allegations of corruption in the voting procedure, Platini thought it unlikely.
"To revoke World Cup decisions will be difficult," he admitted. "And, if there is another vote, I will vote the same way. I voted for Qatar because it was time to go to a country in that part of the world. They bid five times."
Night boat to Cairo
Hardcore fans of Egypt's Ahly football club, stepped up their protests against alleged corruption on Tuesday, storming Cairo's Media Production City (MPC) to protest against television channel Modern TV.
Hundreds of demonstrators singled out Medhat Shalaby and Ahmed Shobeir, two television presenters known for their frequent anti-Ultras comments.
The angry supporters left after few hours.

 Ultras Ahlawy released a song on Monday to mock several TV presenters, whom they believe are trying to undermine their image.
You can read more about the trouble here.
Goal of the day
Leeds United's Aidy White slalomed his way through the Everton defence before unleashing a curling strike from the edge of the area.
Quote of the day
"I hoped Bayern might not take us seriously after all their recent good performances. But my hopes were dashed straight away. Bayern immediately put us under pressure and played good football. We have to accept that Bayern are too good for us at the moment."
Felix Magath's tactical master plan backfired as Bayern Munich ran out comfortable 3-0 winners.
Super Mario
According to reports in Italy, Mario Balotellis is fed up with life in Manchester and wants to return home to Italy.
You know what they say: when you're tired of Manchester, you're tired of strife.
The Italy striker yearns for a return to his former club Inter.
Caliomercato, somewhat melodramatically, reports:
"They broke up in 2010, with a promise to meet again one day, back in Milan. The two years away and more than 1500 kilometers distance have not weakened the relationship between Mario Balotelli and Massimo Moratti."
What will weaken the relationship is the £25 million fee Balotelli will command, not to mention the multimillion euro salary he will expect.
Men behaving badly
Roberto Mancini has added to his catalogue of touchline confrontations with fellow Premier League managers, by becoming involved in a spat with Aston Villa boss Paul Lambert.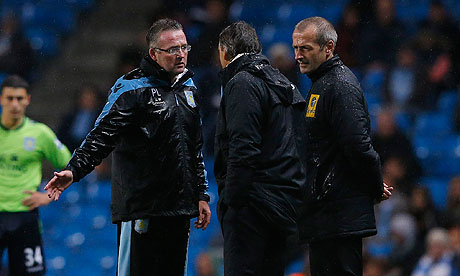 The pair clashed during Villa's 4-2 League Cup victory over City on Tuesday, with Lambert remonstrating with Mancini after the Italian called for a yellow card to be shown to Joe Bennett for a foul on Gareth Barry.
"I am very tired with their behaviour," said Mancini, who clearly believes the kind of respect accorded to the likes of Sir Alex Ferguson. "Sometimes these managers go to the big stadiums and the other manager says everything and they say nothing.
"When they go to [Old] Trafford, they say nothing. When other managers talk about the referee they always sit on the bench.
"I don't like this type of behaviour."
The pair exchanged words, though it looked a minor confrontation and Lambert who, one suspects, knows that he has located Mancini's Achilles heel, insisted it was no big deal.
"If that's what he said then fine. I respect him as a manager and an ex-player," he said. "It wasn't really a spat. It was nothing."
Here's a couple more examples of Mancini's touchline rows since he arrived in England. First, with the aforementioned Ferguson.
Then it was the turn of Everton boss David Moyes to feel the wrath of Roberto.
Poles apart
Grzegorz Lato says he will not run for a new term as boss of the country's PZPN football association in its imminent election.
The news came as surprise to observers who were expecting the 62-year-old to contest next month's leadership vote.
"I have today taken the decision to withdraw my candidacy for the post of president of the PZPN," Lato said in a press release.
"Everyone wants change, so they should be pleased with my decision.
"I believe that I must do this for the good of the PZPN and of Polish football," he added.
The withdrawal of Lato sets up the prospect of his former Poland team-mate form the 1970s and 80s, Zbigniew Boniek, taking over.
Blokhin to step down
Oleg Blokhin has dealt a blow to his Ukraine's World Cup qualifying campaign by announcing he would be stepping down after October's two qualifiers to coach Dynamo Kiev.
The 1975 European footballer of the year has agreed a four year contract and will replace Yury Semin, who was dismissed on Monday.
Blokhin – who played in two World Cups as a player for the Soviet Union – was in his second spell as Ukraine coach having guided them to the 2006 World Cup finals and then returned to coach them when they co-hosted this year's Euro finals.
Heskeymania
Emile Heskey finds himself in the unusual position of being in demand following his decision to join A-League club Newcastle Jets.
The club has already sold out of the Heskey No.9 strip and has ordered 5 more… sorry that should read 5000 more!
In an interview with Fox Sports News, Heskey says he spoke to former Perth Glory and North Queensland player Robbie Fowler about living in Australia.
"I spoke to Robbie Fowler about it and he absolutely loves it in Australia and he told me that I would enjoy myself over there and that was brilliant," Heskey said.
"I've played with a lot of Aussie lads before, as old as Steve Corica, as recent as Harry Kewell, and even Chris Herd who is at Aston Villa.
"I've spoken to all of them and they all said I will absolutely love it in Australia, so I'm really looking forward to it."
"It's a new culture and something different for me. I've actually got some friends who are over there who I'm sure will show me around and teach me different cultural stuff."
The culture? That'll be the pub, yeah?
That reminds me of a joke about Australian Culture: Q) What is the difference between yogurt and Australia? A) Yogurt has some culture
Anyway, joking aside, we wish this most unassuming of footballers a final summer in the sun at his new club.