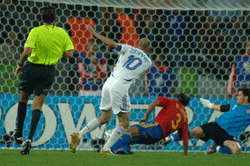 With the World Cup in full flow click here to see the latest odds on every match.
France captain Zinedine Zidane claimed that Tuesday's 3-1 win over Spain had proved their critics wrong.
Zidane, who scored the final goal to set up a tie with Brazil, said: "It was a celebration, the Spanish made it difficult but the adventure continues.
"We wanted to accomplish something and show the people we had the qualities even if in our group it was difficult."
France came from behind to overcome the much-fancied Spanish side, and coach Raymond Domenech attributed the victory to his team's experience..
"It was a remarkable match in every way," said Domenech.
"It was very tough for the players. We may have a team of old men but we know how to be patient.
"Younger people run out of breath. There's something exceptional waiting for us, unique emotions.
"As for Zidane, he kept going for the whole match. In the 89th minute, he stuck to it – he still accelerated."
Meanwhile, France's Thierry Henry has denied cheating to win the free-kick which led to his side's second goal .
The striker fell to the ground clutching his face after colliding with Carles Puyol, although television replays showed that the defender had merely made contact with Henry's chest.
Puyol insisted the referee had made the wrong decision, adding: "If anything it was a foul by Henry."
But Henry responded: "Spain's left-back Mariano Perina was going to win the ball so I don't know why Puyol cut across me, but he did. I don't cheat."
Spain coach Luis Aragones agreed with Puyol, saying that the incident did not merit a free-kick.
"For me the referee (Italian Roberto Rosetti) blew for a non-existent foul for the second goal," said Aragones.
"As for the third goal, the game was practically over already when that went in."
Puyol said: "It hurts to lose this way, because I think we deserved more and we were playing a great game.
"But that's football. We now have to recover and think ahead to the next tournament."
With the World Cup in full flow click here to see the latest odds on every match.