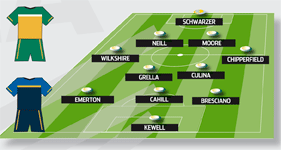 Over the years, the Socceroos have garnered a reputation for "having a go" and being unafraid to attack their opposition. Under coach Pim Verbeek, however, this trait has been somewhat curbed in favour of the Dutchman's conservative and pragmatic approach.
Throughout qualifying, Verbeek rarely diverted from his tried and tested 4-2-3-1 formation. A focus on grinding out results — he once fielded a 4-6-0 formation during a World Cup qualifier away to China — meant there was little time for beautiful football, much to the chagrin of fans and some sections of the Australian media.
Verbeek understands the creative limitations of his squad, hence the no-frills mindset. And given the Socceroos were the second team to qualify for South Africa, it's difficult to mount a case against Verbeek's philosophy.
Australia's 4-2-3-1 formation is built on a solid defensive foundation. Schwarzer stands behind a backline marshalled by central defensive partners Neill and Moore. Full-backs Wilkshire and Chipperfield provide defensive balance and have licence to attack down the flanks, while Williams and Carney are suitable replacements due to their pace and run out of defence.
Anchoring midfielders Culina and Grella will launch quick counter-attacks when chances arise, feeding wide men Emerton and Bresciano, and Cahill through the centre. The trio's speed allow them to carry the ball quickly and break the lines, and in doing so, link with lone striker Kewell.
The Socceroos may not be blessed with an abundance of household names on the bench, but in the likes of Holman, Jedinak, Vidosic, Kennedy and McDonald, Verbeek has players that are more than capable of executing his pragmatic gameplan.
Team – 4-2-3-1
Schwarzer; Wilkshire, Neill, Moore, Chipperfield; Grella, Culina; Emerton, Cahill, Bresciano; Kewell