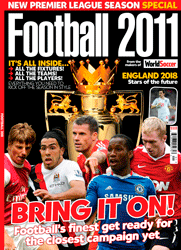 The 2010-11 Premier League season is almost upon us and to help you kick off the campaign in style World Soccer brings you Football 2011.
Over the course of 132 pages, Football 2011 is your essential guide to the forthcoming season. Here you'll find profiles of each club and every player in the Premier League, as well as the full fixture list for what promises to be a tightly contested campaign.
World Soccer editor Gavin Hamilton profiles the new Liverpool manager, Roy Hodgson, plus there's an interview with Ian Holloway who has achieved the remarkable feat of taking Blackpool into the top flight for the first time since 1971.
Elsewhere, in the wake of yet another disappointing World Cup showing, we fast forward to 2018 to identify the young English players who might light up the World Cup stage in eight years time.
Whatever you need for the new season you'll find it in this one-off special edition from the makers of World Soccer magazine.
Football 2011 is on sale now from all good retail outlets, both in the UK and overseas.