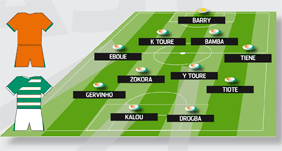 A surplus of quality strikers will likely see the Ivorians go in with at least three up front against North Korea but be a lot more circumspect against Brazil and Portugal. Drogba leads the line and will have Kalou and Bakary Kone as possible partners with Abdelkader Keita used as second half impact player.
Winning possession in midfield is one of their strong points with Zokora and Toure among the world's best defensive midfielders. Lacking is a better supply to the strikers with the Ivorians missing a genuine playmaker.
The left side of defence is also a weak point with several options tried in recent years but no real solution found. Eriksson's influence will likely not to be as marked as it was with England given the short amount of time he has to prepare the team.
The new coach's priority, after the foibles of the Nations Cup, will be to install better discipline in the defence where Bamba and Toure made calamitous mistakes.
Team – 4-4-2
Barry; Eboue, Toure, Bamba, Tiene; Zokora; Toure; Tiote; Gervinho; Kalou; Drogba.