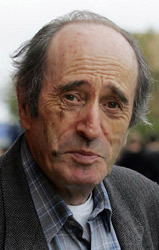 Bye, bye, Barca! In all sorts of ways. Not merely so far as the European Cup is concerned; but also as a club to be admired.
Too much that was deplorable went on in and around the second leg match at Nou Camp against Inter. And even the unconvincing winning goal that evening looked suspiciously offside.
Before the match even took place, there had been the fiasco of Spanish police arriving at Inter's hotel, trying to arrest Samuel Eto'o, who left Barca last summer in exchange for a far from resplendent Ibrahimovic, for alleged income tax offences. I've no idea if there was any basis in reality to such charges, but whether or not they were valid, suspicion again was relevant when this attempt was made to arrest Eto'o on the eve of so important a game.
In the match itself, we saw the expulsion of Thiago Motta, for swinging his arm into the head of Sergio Busquets. Technically and legally, this was surely a sending off offence. But the subsequent, surreptitious, behaviour of Busquets, slyly and stupidly (regardless of all-seeing TV cameras) in raising his head from the ground to see if a red card was being shown, was repellent.
Then there was the sudden activation of the sprinklers at the end where Jose Mourinho was endeavouring to celebrate with the Inter fans, behind the goal.
Overall, the two ties sharply diminished the Lionel Messi euphoria. Though in the Nou Camp tie he did produce one superb, swerving shot, which provoked an equally fine save by Julio Cesar, Inter, in each of the ties, largely managed to subdue him and without even subjecting him to the man marking which would doubtless have been activated in Helenio Herrera's catenaccio day.
All credit to Inter, despite their manifest time wasting, for keeping Barca at bay so long, with just the ten men, before conceding that controversial goal to Pique, a centre back – who took it gloriously it's true – moved up front in sheer tactical desperation.
Yet for all Inter's defence in desperation and in depth, surely a truly great team, as Barca were supposed to be, would have made more chances and even scored more goals. One's mind goes back to that semi final match last season at Stamford Bridge when Barca, however magisterially they disposed of Manchester United in the European Final in Rome, survived against Chelsea only thanks to a clown of a Swedish referee, who ignored three palpable penalties.
Contesting their first European Cup Final since 1972, Inter will doubtless start favourites for the Final, in Madrid. But Bayern Munich, under the shrewd aegis of Louis Van Gaal, will prove a very difficult opponent.
Bayern began the season shakily, yet gathered strength and efficiency as it progressed and Van Gaal's methods steadily bore fruit. They won't have Franck Ribery in the final; the three match ban he received after being sent off for that vicious foul in the match against Lyon, in Munich, was fully justified and Bayern's appeal, though perhaps inevitable, was always doomed.
Yet given the electric, goal scoring, form of their other international winger, Arjen Robben, Bayern have hardly been affected by the loss of the French international. It remains to be seen whether Inter can stop Robben cutting in from the right wing to use that devastating left foot, which has played such a part in his team's progress to the Final. Alternatively, he could perfectly well, if he finds his way barred, switch to his more accustomed role on the left and do damage from there.
Given his impressive burst of form, the belated return to activity of the highly incisive striker, Robin Van Persie with Arsenal, and the versatile form of the Inter midfielder, Wesley Schneijder, both scheming and scoring, I believe Holland should be seen as one of the favourites for a South African World Cup which hardly overflows with talent. Indeed, I can foresee a tournament as largely mediocre as we had in Germany, four years ago.