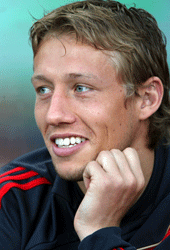 World Soccer: You have been a Liverpool player for two years now. How would you assess your career in England so far?
Lucas Leiva: I feel I am finally adapting to English football and to the responsibility of wearing the Liverpool shirt. I admit there has been a rocky patch, but I am quite optimistic. I know I can repay the faith the club and the supporters put in me.
Do you feel we have seen your best performances yet?
I am a young guy who is having his first experience of playing abroad, so there is obviously a learning curve. I am feeling much more confident and I just want to help Liverpool challenge for major honours as soon as possible. This is a massive club and you feel different when you step on the pitch to defend the club's honour.
What have been the best and worst times for you since you arrived?
Some parts of last season were tough, but I look back to it as a chance to become a better person and player. You must learn to handle the criticism if you want to persevere in football. Losing our quarter-final against Chelsea in the Champions League also hurt me. As for the good moments, I like to remember scoring my first goal for Liverpool, in the FA Cup. The 4-1 drubbing we gave Manchester United at Old Trafford was also quite special. I hope to be naming more good moments soon…
You have endured a difficult relationship with the fans. Why?
At a club like Liverpool it's like trying to play for Brazil: you have to fight your corner at every game. The fans will be by your side if they trust you but you can never take them for granted. I believe I have proved to Liverpool fans that I'm willing to sweat blood for this team and to try to make the crowd happy.
Do you feel settled in the city of Liverpool?
Liverpool is quite a different city from Porto Alegre, where I lived for a good part of my life. The weather is a bit too cold, but I have learned to appreciate what the city has to offer. Liverpool has amazing parks and restaurants and it is not chaotic like London. I am happy here, as much as I miss friends and family in Brazil.
Have you been surprised by the passion for the club?
Every time I walk on to the pitch at Anfield and see that sea of scarves, I feel butterflies in my stomach. People here are crazy about football. Liverpool fans seem to be a bit more passionate since they have been craving for the Premier League. They are hungry!
Many players have struggled with the physical nature of English football. Is that true for you?
It was natural to struggle a bit at the beginning, but I don't think it has been a major issue, although the game in England is so much faster. I like to think the differences are a challenge, not a hurdle.
Who has been your toughest opponent in the Premier League so far?
There is no such thing as an easy opponent in the Premier League, but there are some special battles. Frank Lampard is a guy that I admire for his combination of qualities. The guy is tough, intelligent and skilful.
Now Xabi Alonso has left, do you view this season as a big chance to establish yourself as a first-team regular?
We will certainly miss a guy like Xabi but it is now a chance for me to step up and show my work. It is a big chance, obviously, but I am more concerned with how Liverpool can win trophies than being a replacement for him. I have to be more versatile because sometimes I will need to play alongside Javier Mascherano and other times with Stevie [Gerrard], which will demand different tactical roles for me.
Can you become as popular as Xabi?
Popularity is a consequence of your work and I believe I can show the fans how committed I am. It's pointless to merely compare players.
Do you feel Liverpool's squad is strong enough?
We have a strong group with quality players. Splashing cash is not always the solution to winning trophies.
What are your personal ambitions and targets?
I want to be part of Liverpool history, and one way would be by helping them win the Premier League. I also need to have a great season because of Brazil. The World Cup is around the corner and I want to be part of it. For my family it's a bit more special as my uncle, Leivinha, was in the Brazil squad for Germany 1974 and I want to emulate him.