Low expectations
An underwhelming qualifying campaign and tough draw leaves the Socceroos up against it
Words by Simon Hill
Another tortuous qualifying campaign ended in a success that surprised many, as Peru were dispatched on penalties in the inter-confederational play-offs.
Coach Graham Arnold made the biggest call of his career by substituting Andrew Redmayne in place of first-choice goalkeeper Mat Ryan. Had it gone awry, then Arnolds's tenure would have ended, in truth he barely survived after missing out on automatic qualification.
So, just to be at Qatar is a bonus, even if expectations aren't particularly high, especially as the Socceroos have been grouped with France and Denmark, along with Tunisia.
But it is to Arnold's credit that he managed to lift his players at the right time for the play-offs and, while nobody seriously believes this vintage is a patch in the "golden generation" of 2006, there is some talent in the squad.
In particular goalkeeper and regular captain Mat Ryan, who should benefit from a move to FC Copenhagen, which will give him the regular football he has been missing in recent years. Aaron Mooy's renaissance as a midfielder with Celtic should help too; Mooy was excellent in controlling the midfield against Peru, despite being seriously underdone in terms of competitive minutes at the club level with his previous employers Shanghai Port.
Finding a regular goalscorer in the mould of the now-retired Tim Cahill remains an issue that Arnold must resolve. The central striking role has alternated between Jamie Maclaren, Adam Taggart, Mat Leckie and on occasion Mitch Duke. None have delivered regularly, which led Arnold to call up 18-year-old Newcastle-bound forward Garang Kuol.
Simon Hill
THE VIEW FROM AUSTRALIA
"Australia travel to their fifth consecutive World Cup in the same mod they have travelled to most of the others- more in hope than expectation. The golden generation of Viduka and Kewell are sadly a distant memory, with few of the squad playing in Europe's major leagues these days."
Michael Lynch, The Age newspaper
"The underdog name is one that all Australian sporting teams thrive on, and the Socceroos revelled in it in their win over Peru to qualify. The opening game versus France looms as a crucial- the result will have a great bearing on whether or not the Aussies progress."
Mark Bosnich, ex-Socceroo and pundit
COACH
Graham ARNOLD
Age 59 (03.08.63)
Appointed August 2018
It's safe to say Arnold is not the most popular coach Australia have ever had. In part, this is due to the Melbourne-Sydney divide, but he's also had to live with comparisons with his predecessor Ange Postecoglou, and a stuttering qualification campaign that only came good right at the death. He made great play of the Aussie "DNA" and "fighting spirit" ahead of the play-off, and got a response- but will that be enough against teams of superior quality at the World Cup? A group-stage exit will almost inevitably mean the end of his four-year tenure.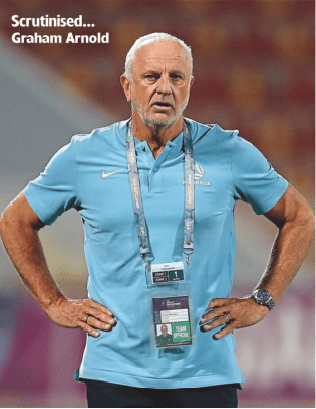 To read the rest of this preview, order our World Cup Special here