Red Devils' last chance
Belgium's long-vaunted "golden generation" have one final shot at silverware in Qatar
Words by Samindra Kunti
Can Roberto Martinez mastermind one last great hurrah in Qatar before Belgium's golden generation, which first prompted major excitement at the 2014 World Cup with a run to the last eight, fades from view?
Following on from their perfect preliminary campaign for the last European Championship with ten wins out of ten and 40 goals, Belgium again qualified with aplomb for a major finals, garnering 20 points with six wins and two draws, scoring 25 goals. It was satisfactory enough en route to Qatar, but qualifiers with the Czech Republic and Wales as main opponents do not represent a proper benchmark for a side that includes stellar names such as Thibaut Courtois, Eden Hazard and Kevin De Bruyne. Big tournaments do and that's precisely where Belgium have always fallen short.
Last summer's disappointing elimination at the hands of Italy in the quarter-finals of Euro 2020 was a tough reality check. The positional play, high-tempo passing, quick transitions and play in between the lines from Roberto Mancini's team were simply too good. De Bruyne was not fit. With an unstable, ageing back line and Hazards's ever-lasting injury concerns at Real Madrid, match fitness is problematic. Belgium simply need all their best players to perform at their peak. It's a prerequisite to compete.
In the 2021 UEFA Nations League finals, the Belgians choked again against more storied opponents – world champions France. The press and public mood turned sour after the defeat that confirmed Belgium don't have what it takes to win silverware: the quality and shrewdness to defeat the big teams when it matters.
Criticism at the feet of Martinez grew: his in-game management was not sufficient, and he was too loyal to established players. Last June's 4-1 thrashing against the Netherlands was perhaps a wake-up call. Martinez grudgingly admitted that it was time to question some of the veterans with a new talented generation waiting in the wings.
Milan's new boy Charles De Ketelaere is seen as Belgium's next big star, but with so little experience on the biggest stage, his cohort can't be expected to simply step in if and when called upon. This lack of generational transition is a problem of Martinez's own making. The memories of that barnstorming victory over Brazil in Kazan in 2018 have become distant. In Qatar, it looks unlikely the Red Devils will progress to the last four. Group F is tricky and a second-round clash against Spain or Germany would be daunting.
THE VIEW FROM BELGIUM
"You can't underestimate, Group F. Canada could be a revelation, Morocco will be united with a new coach installed and Croatia remain Croatia despite an ageing generation.Navigate those teams and heavyweights await.Belgium will have to be at their best with a spine of Courtois, De Bruyne and Lukaku."
Tom Boudeweel VRT
"Alderweireld, Bouyata and Vertonghen have returned home. Vermaelen has returned. Eden Hazard is the world's most expensive bench warmer. Kevin De Bruyne and Thibaut Courtois are still around but that's not enough. Reaching the least eight would be a great result."
Francois Colin, dewitteduivel.com
COACH
Roberto MARTINEZ (Spa)
Age 49 (13.07.73)
Appointed August 2016
Martinez led Belgium to third place at the 2018 World Cup, but underwhelming results at both Euro 2020 and 2021 UEFA Nation League Finals dimmed the national team's aura. A previously pliant press is now critical of the national team coach, who serves as technical director too. The fans demand success. Martinez's communication is not always transparent, his game-management not good enough and he is too faithful to the generation that delivered bronze in Russia. Above all he hasn't delivered a trophy. Qatar represents a chance to go out on a high.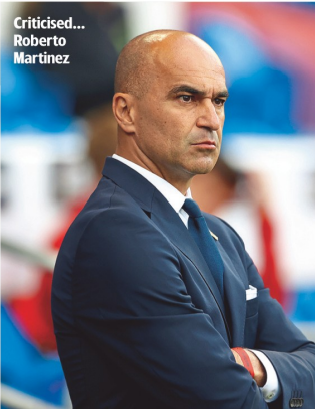 To read the rest of this preview, order our World Cup Special here