Big expectations
A strong showing at Euro 2020 and an impressive qualifying campaign mean that hopes are high
Words by Brian Homewood
Switzerland have had a memorable 18 months and will arrive in Qatar with realistic hopes of reaching the World Cup quarter-finals for the first time since they hosted the tournament in 195. Yet some nagging doubts have merged over the course of the summer.
The Swiss produced arguably their best-ever performance in a major tournament match at Euro 2020 when they came back from 3-1 behind to draw 3-3 with France and eliminate the world champions on penalties. They might have gone even further had it not been for an extremely harsh red card for Remo Freuler in the quarter-final against Spain, which came just after they had equalised and were gaining momentum. Although they took the game to penalties, Spain went through.
Coach Vladimir Petkovic, who still had two years to run on his contract was lured back to club management with an offer from Bordeaux and replaced Murat Yakin. Though it turned out to be a poor move for Petkovic, who was sacked seven months later, the change could not have gone better for Switzerland who finished top of their World Cup qualifying group ahead of Italy, conceding only twice in six games under Yakin's leadership.
They did so without Granit Xhaka who missed all of those games through injury. But, when Xhaka returned, performances dropped noticeably. They lost to England and drew with Kosovo in friendlies, then had a miserable time in the UEFA Nations League matches in the summer, when they lost three games in a row, including a dismal 4-0 thrashing in Portugal. A home victory over the Portuguese lifted the pressure slightly but, inevitably, it raised the question of whether Xhaka is indispensable.
Amid reports that the Arsenal player publicly complained about the 4-4-2 formation used in the 2-1 defeat by the Czech Republic, Yakin said that no harm was done. "I don't see that as a criticism of my tactics at all," he said. "It is important to listen to how the question that was put to him was worded exactly. I've discussed his position. They're trying to drive a wedge between us, which I don't understand at all."
The club form of players is always a concern for Switzerland, and while Xhaka himself has delivered some sparking displays for Arsenal and Xherdan Shaqiri has been in regular action since his move to Chicago Fire ( despite his team struggling), on the other hand Manuel Akanji's move to Manchester City – while no doubt prestigious – means he has been getting far less playing time. Expectations are high, but the Swiss have landed in a tough group and, as in 2018, it could all boil down to their politically charged match against Serbia.
THE VIEW FROM SWITZERLAND
"Expectations are running high after the Nati's win against France at Euro 2020 followed by Murat Yakin's successful start. The popular new coach has brought new tactics and new players but in this difficult group, Switzerland will once again rely on the form of leaders Shaqiri and Xhaka as well as on Yann Sommer's heroics."
David Lemos RTS
"The team is nearly the same as at the Euros, so the goal must be the quarter-finals. Yakin has a good feel for the game and thinks on his feet- he is not a laptop coach. But Shaqir is a concern, and we are not sure what sort of form he is in."
Andreas Boni, sports editor Blick newspaper
COACH
Murat YAKIN
Age 48 (15.09.74)
Appointed August 2021
A former central defender who won 49 caps for Switzerland between 1994 and 2004. As a manager, he won the Swiss second division with Thun and then made his name with Basel when he won successive Swiss titles and led them to home-and-away Champions League wins against Chelsea. Since then, his career has been a mixed bag. He moved to Spartak Moscow for one season then returned home where he had short spells at Grasshoppers and Sion. He was coaching second division Schaffhausen when Switzerland came calling.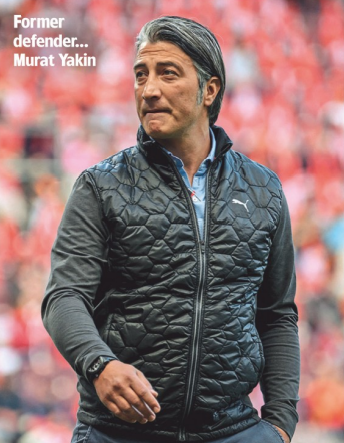 To read the rest of this preview, order our World Cup Special here