Lucky to be here
If an African nation is to impress in Qatar, it is unlikely to be the Eagles of Carthage
Words by Mark Gleeson
Tunisia can count themselves fortunate qualifiers for the tournament in Qatar and could arguably be among the weakest sides that Africa has yet sent to the World Cup finals.
A FIFA ranking inside the top 30 is something of a misnomer as they enjoyed a fortuitous route to the finals, devoid of any significant obstacle in the African qualifiers.
Tunisia topped their four-team group this time last year, winning four of six games against Equatorial Guinea, Mauritania and Zambia.
They were then drawn against Mali in March's two-legged play-offs – one of the best possible pairings they could have got considering potential opponents included Ghana, Egypt and Cameroon – but only squeezed through with more dollops of luck.
They won the first leg away, courtesy of a horrendous own goal by Moussa Sissako, and then at home in the return match fought a stout defensive rear-guard action to hold out for a goalless draw and qualify by the narrowest of margins.
At no time was there any conviction in their play, leaving the impression of good fortune. In January at the Cup of Nations finals in Cameroon, there was more fortuity as they reached the quarter-finals despite losing more matches than they won.
They were beaten in two of their three group matches and only advanced as one of the best third-placed finishers but then beat Nigeria (courtesy of a goalkeeping error) 1-0 in the round of 16 before being knocked out by Burkina Faso in the last eight.
Their performance at the Cup of Nations led to the sacking of coach Mondher Kebaier in an admission that they had not been good enough. His deputy Jalel Kadri is his successor and will be among the least experienced coaches at the World Cup finals. But to his credit, Tunisia had not conceded a goal in his first six matches in charge, which included a creditable Kirin cup trophy with comprehensive victories over Chile and hosts Japan.
Their defence is their strong point and one of the reasons a relatively small country, with a population of 12 million, is able to punch above its weight in African football, Allied to a strong domestic league, Tunisia are perennial contenders and heading for a sixth World Cup finals appearance.
They were the first African country to win a World Cup finals game, beating Mexico 3-1 in Rosario in 1978 in a pivotal breakthrough for the African game. But they are still yet to get past the group stage and won only two of 15 past matches at the finals tournament.
THE VIEW FROM TUNISIA
"Tunisia must achieve a long-awaited feat for the fans by qualifying for the second round for the first time. The last group game against the French will be very difficult, almost impossible. Tunisia will participate in the World Cup with optimism, but with great caution."
Abdessalam Dhaifallah sports chief Radio Mosaique FM
"Tunisia have a great tradition in World Cups, remembering what the 1978 team did. I believe in our team capacities, even though I do not some weaknesses. Our team counts on different players, young and experienced, who mostly play in Europe and have interesting skills."
Rafik El Herguem, sports editor La Presse 
COACH
Jalel KADRI
Age 50 (14.12.71)
Appointed January 2022
Kadri was assistant to Mondher Kebaier, a role he had also previously held when Nabil Maaloul was coach in 2018. His coaching career reflects the tenuous nature of taking charge of clubs in the Arab world, where hiring and firing is far more frequent than most. A former league player, he began his coaching career in 2008 at Esperance Zarzis but lasted only six games. He took charge of another six Tunisian clubs, plus Al Ansar, Al Nahdah, Al Khaleej (Saudi Arabia), Emirates Club (United Arab Emirates) and Al Ahly Tripoli of Libya.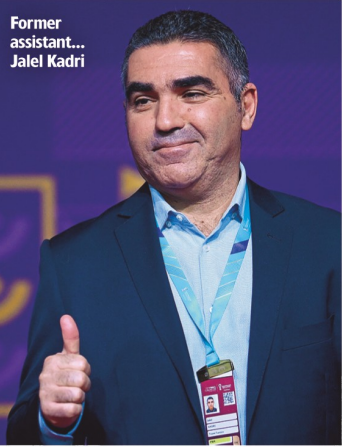 To read the rest of this preview, order our World Cup Special here