Changing of the guard
New coach Diego Alonso must find the right blend of Uruguay's old and new generations
Words by Tim Vickery
It might be thought after a three-year cycle with 18 qualifiers plus two versions of the Copa America, teams would be going to the World Cup with the big issues worked out, and the coach just needing a bit of tinkering around the edge. For most, maybe but that certainly does not apply to Uruguay, where Diego Alonso has plenty to think about.
The stakes are high and the margin for error is small. Since their reboot under Oscar Washington Tabarez Uruguay have roared back to the game's top table in a way that a few thought possible some 15 years ago. In two of the last three World Cups, statistically, at least, Uruguay were South America's best side – a barely credible achievement for a country with such a small population. Tabarez was seduced into staying on after Russia 2018 – in Qatar he would still be able to count on his old guard (Luis Suarez, Edinson Cavani and Diego Godin), while the impressive midfield unit would have come into maturity.
But he never quite got the balance right, and in the end, he was forced out by a combination of injuries and the fixture list. Home and away against Argentina, away to Brazil and the dreaded trip to Bolivia was a nightmare run which brought four demoralising defeats and forced a change. The most embarrassing was away to Brazil. The game was scarcely a contest. With Suarez and Cavani up front and (with Jose Maria Gimenez and Ronal Araujo out injured) Godin and Sebastian Coates at the back, Brazil licked their lips. "Two slow strikers, two slow centre-backs," said a member of their coaching staff.
And so, in came Diego Alonso to end the crisis and steer the ship over the line. Wins away to Paraguay and at home to Venezuela and Peru were good enough to clinch qualification but the opponents lacked the quality to pose the serious questions. Since then, Alonso has been shuffling his pack. How many of the veterans can he play? This is not just a question of personnel. It also has a profound impact on the shape of the side.
All of this makes Uruguay intriguing and unpredictable. And they are definitely dangerous. There is a genuine quality in defence (although a spate of centre-back injuries is a worry), midfield and up front, and if Alonso can find the right blend, then they can set their sights at least as high as in 2018, when they eliminated the European champions on the way to quarter-final defeat against the team that would go on to lift the trophy.
THE VIEW FROM URUGUAY
"This is a special World Cup for Uruguay. It's the last one for big names like Suarez and Cavani, and there are also younger players, such as Valverde and Nunez. The resources are there in the squad to go far in the competition, but they have been drawn into a very even group so nothing can be taken for granted."
Juan Pablo Romero, El Pais
'Uruguay are an enigma. There's enough talent to believe in a good campaign but Group H is very balanced. The coach has not been there for long, and it's not yet clear how he's going to deal with the generations of veterans who will soon be leaving the scene."
Martin Fernandez, TV Globo
COACH
Diego ALONSO
Age 47 (16.04.75)
Appointed December 2021
"Tornado" Alonso was a lanky, nomadic centre-forward briefly an international, best known for spells at Atletico Madrid and Valencia. He began coaching in 2011 and has worked in Uruguay, Paraguay, Mexico (with great success, winning two CONCACAF Champions League) and the Usa before taking charge of Uruguay at the end of last year. Notably reluctant to complain about referees, he has an interesting relationship with Oscar Ortega, Atletico Madrid's highly-rated Uruguayan physical preparation specialist, who came on board for the end of the qualifiers.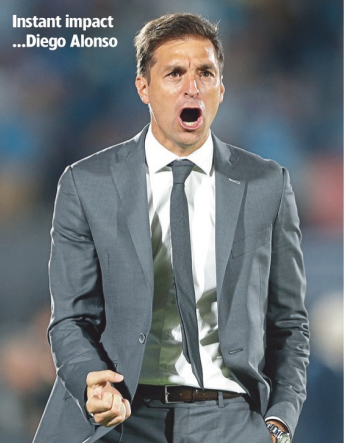 Click here to order your personal copy of our World Cup Special : https://shop.kelsey.co.uk/single-issue/world-soccer-magazine/2212