Phil Gordon looks back on Scotland's long wait to qualify for a major tournament
This Scotland supporter could not bear the tension; on his feet imploring the referee to end the agony. And then, unquenchable joy.
If November 12, 2020 in Belgrade is the start of Scotland's new story, the start of the old one was September 26, 1973. The best of times are the back-story to the worst.
I was fortunate to be at Hampden Park on the night when Scotland beat Czechoslovakia 2-1 to reach the 1974 World Cup finals. I was 13 but it still remains the high-water mark of Scotland occasions, even after all these years.
The noise has never been equalled. The roars of 100,000 fans pierced the Glasgow night sky, three times: first when Jim Holton headed a first-half equaliser, then again for Joe Jordan's 75th-minute winner, and lastly, at full-time.
My father was a teacher who was not big on public displays of emotion, yet he grabbed my Scotland flag and was punching it high into the air. His generation had to wait 16 years for Scotland to reach any finals. The gap between the 1958 World Cup was long.
16 years seems now like early parole. Scotland footballers, and fans, have been stuck in Shawshank for 22 years, feeling forgotten when big tournaments dominate every summer since our last in France at the 1998 World Cup.
But, then, one incredible moment from goalkeeper David Marshall, diving to his left to save Aleksandar Mitrovic's penalty to decide the play-off final against Serbia, and it's Scotland who have seized the passport for Euro 2020.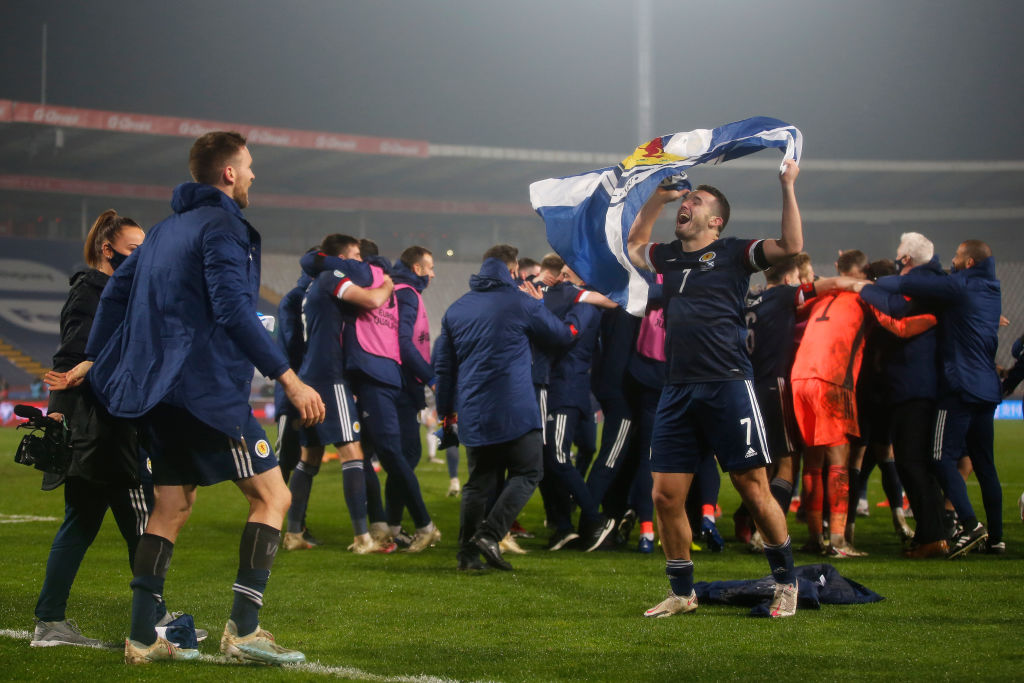 The eerie silence of the Stadion Rajko Mitic was shattered by the shrieks of disbelief from Steve Clarke's players as they descended on Marshall. The empty stadium symbolised these COVID times. There were no Serbia supporters, just as Hampden was empty for the semi-final penalty shoot-out win over Israel.
Scotland's fans could not have an away day in Belgrade. Visiting media were also kept away. So, the Tartan Army and every journalist had to make do with watching television in their living rooms (Scotland's bars have also been closed by COVID). You could not have found a greater contrast to Hampden and beating the Czechs in 1973.
Nothing could stem the joy. Every celebration might have been self-isolated but nothing could dilute the feelings of relief as 22 years of frustration washed away. Scotland netted all five kicks with German precision and hero Marshall produced a decisive hand to save the final penalty, on the same goal line that Antonin Panenka beat Sepp Maier to win the 1976 European Championship for Czechoslovakia against West Germany; the first-ever finals to be decided on penalties.
Panenka was actually on the side that lost at Hampden three years earlier. His famous dink is now trademarked; perhaps David Marshall should look into the possibility of trademarking his save? Or even his celebration: begging for the referee's approval first before jumping into the arms of his jubilant team-mates.
In order to understand the emotion of the Scottish public at ending this football famine, you have to place it against the feast that fans enjoyed for three decades. Scotland qualified for five consecutive World Cup finals between 1974 and 1990. Missing out on 1994 was soothed by reaching the finals of Euro '92 and Euro '96. Players and supporters expected to be there.
Indeed, when France '98 was held, it was almost as if FIFA had called in central casting for the opening game. Champions Brazil, the best team in the world, against Scotland with the best fans. There were 20,000 Scots in the Stade de France – plus me and my compatriots in the press box – watching Craig Brown's players strolling across the turf in their kilts before the match.
When John Collins equalised with a penalty, we dared to dream. Only for Brazil to win with a fortuitous late own goal from Tom Boyd. A 1-1 draw with Norway in Bordeaux and a 3-0 defeat to Morocco in Saint-Etienne saw Scotland eliminated. The team camp near Avignon in the south of France was idyllic under the warm sun, but Scotland's participation at finals went into deep cold storage.
Ten tournaments came and went without Scotland on the guest list: five World Cups and five European Championships. Six managers tried to break a cycle that became increasingly impossible after Brown stood down in 2002, starting with Berti Vogts – the coach who won Euro '96 for Germany – Walter Smith, Alex McLeish, George Burley, Craig Levein and Gordon Strachan, before McLeish returned in 2018.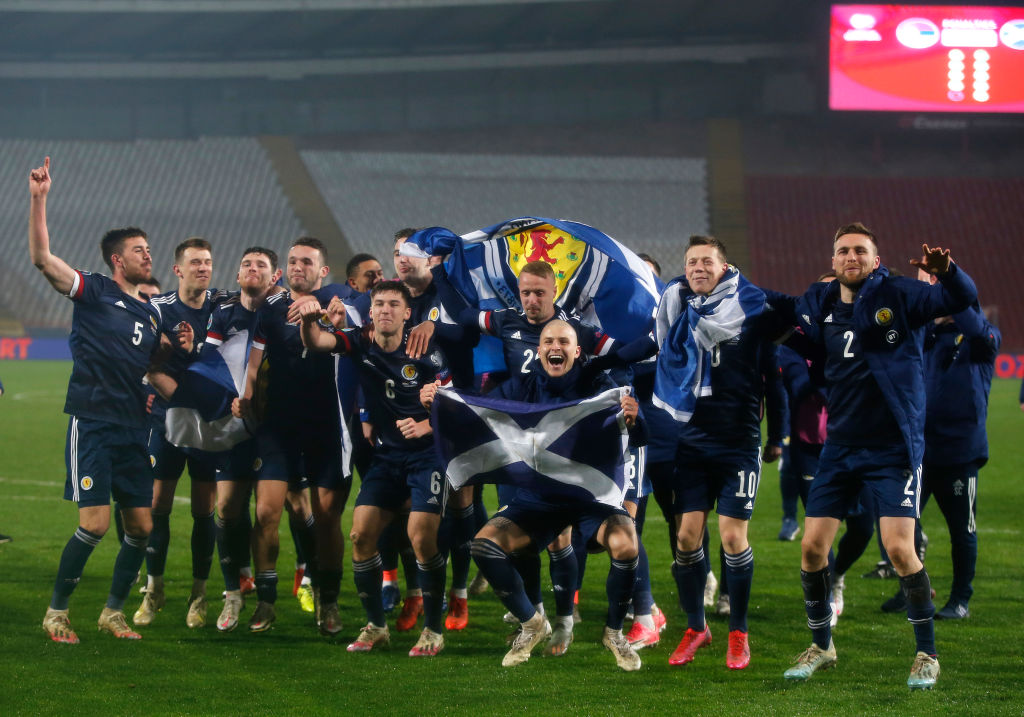 Scotland won their Nations League group with McLeish but his tenure ended after just 14 months following a shocking 3-0 Euro 2020 qualifying-group defeat in Kazakhstan. Clarke arrived in May 2019, with no chance of qualifying as unbeaten Belgium and Russia took the top two places. The new manager finished third with the knowledge that the play-off "joker" from the Nations League was there as a fall back.
Such a modest route might have been unthinkable back in the days of Kenny Dalglish or Jordan, but Clarke's side leapt on the chance. Two decades of exile meant good players such as Darren Fletcher, James McFadden, Barry Ferguson, Scott Brown and Shaun Maloney had all missed out any finals.
The first two misses were so close, losing to England in the Euro 2000 play-off despite winning the second leg at Wembley, and also to Netherlands in the Euro 2004 play-off, with McFadden's winner at Hampden wiped out by a 6-0 defeat in Amsterdam.
McFadden would also score a stunning winner in Paris during Scotland's Euro 2008 qualifying group, as they were drawn alongside both of the previous World Cup finalists, France and Italy. The Scots even topped the table going into their final two matches, but a 2-0 defeat in Georgia and 91st-minute sucker-punch from Italian defender Christian Panucci ended their hopes.
Watching the play-off action unfold in a television studio in Glasgow doing match analysis, McFadden and Fletcher were genuinely pleased that Scotland's class of 2020 had achieved what they could not. "I never got there, but I don't have one bit of bad feeling to these players," said McFadden. "I am proud of them. You talk about 22 years. It's been such a long time since fans even saw Scotland at a major finals."
Fletcher had special praise for Marshall, who made his Scotland debut in 2004 as a Celtic teenager, and is now 35 with Derby County. "We had three very good keepers in Craig Gordon, Allan McGregor and David Marshall and David is the most underrated of the lot," said the former Manchester United player. "David kept turning up, never letting his country down, and now, thanks to Belgrade, he's the hero of Scotland."
Even better for Scotland, Glasgow is one of the venues for Euro 2020 and the prize for winning in Belgrade are two games at Hampden against the Czech Republic and Croatia. In a repeat of Euro '96, their other group game will take place at Wembley against England.
Ironically, London is actually Clarke's adopted home, after ten years as a Chelsea defender. Even though his playing career included a Cup-winners Cup triumph in 1998, Clarke's six Scotland caps never included a finals appearance. He was left out of the squads for the 1990 and 1998 World Cups, and Euro '92 and Euro '96.
"When I came into the Scotland job I spoke about my disappointment of missing out on Italia '90 as a player," said Clarke a week after Belgrade. "Does this make up for it, or erase it?
I don't know. It's a different kind of feeling as a manager."
One of Clarke's contemporaries, who did feature for Scotland at Euro '92 and '96, and France '98, is Kevin Gallacher. The striker scored nine times in 53 caps, growing visibly in international stature after his first taste in Euro '92 against Netherlands, Germany and CIS (Russia). Gallacher feels Clarke's finals rookies can thrive at Euro 2020.
"I always believed we had enough talent in Scotland," said Kevin, now 53. "We have had great talent but those players never graced a finals and that's a sad thing. But now we hope this next generation uses this great achievement. When you experience it, like we did, it's massive. It's great for your country and you as a footballer."
In the absence of international football status, the Scottish public transferred its affection to Andy Murray. The tennis star – a massive Scotland fan – was one of the first people to congratulate Clarke's team and there is little doubt Murray's self-belief is reflected in Andy Robertson and co.
It took veteran football writer, Hugh MacDonald, hardened by knocks at 65, to sum it up best. "What if the nation now believes in the potential of the future, rather than burdened by the weight of the past?" MacDonald wrote in the Sunday National. The quote was so good it appeared on the poster the newspaper published of the Scotland team hugging in Belgrade.
Now, the goal for Clarke's players is to become poster boys for a new generation of Scotland fans.
Article by Phil Gordon
This article first appeared in the January Edition of World Soccer. You can purchase old issues of the magazine by clicking here.