Every year we collate the votes from our colleagues in European Sports Media to determine the Team of the Season. The Team of the Season is based on appearances in the ESM Team of the Month throughout the season. Here's the ESM XI for 2020-21.
ESM XI – 2020-21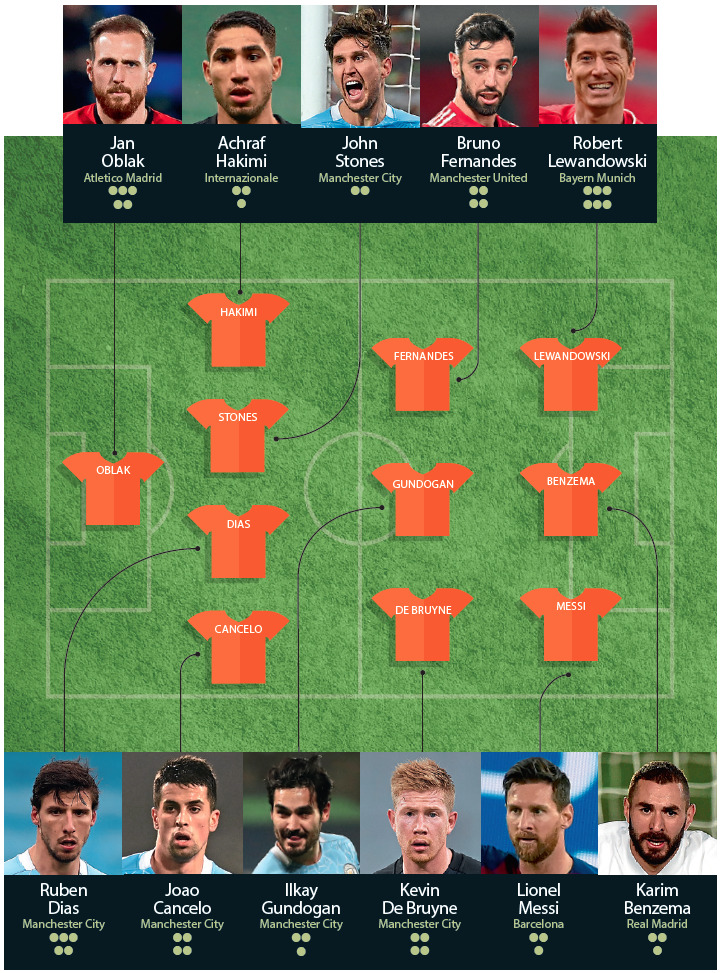 Goalkeeper:
Jan Oblak (Atletico Madrid, 5 appearances)
Defenders:
Achraf Hakimi (Internazionale, 3 appearances)
Ruben Dias (Manchester City, 5 appearances)
John Stones (Manchester City, 2 appearances)
Joao Cancelo (Manchester City, 4 appearances)
Midfielders:
Kevin De Bruyne (Manchester City, 4 appearances)
Ilkay Gundogan (Manchester City, 3 appearances)
Bruno Fernandes (Manchester United, 4 appearances)
Forwards:
Robert Lewandowski (Bayern Munich, 6 appearances)
Lionel Messi (Barcelona, 3 appearances)
Karim Benzema (Real Madrid, 3 appearances)
ESM MEMBERS
A Bola (Portugal), Fanatik (Turkey), Frankfurter Allgemeine Zeitung (Germany), La Gazzetta dello Sport (Italy), Kicker (Germany), Marca (Spain), Nemzeti Sport (Hungary), Sport-Express (Russia), Sport/Foot (Belgium), De Telegraaf (Netherlands), TIPS Bladet (Denmark), ElfVoetbal (Netherlands), World Soccer (England).
Graphic by Sean Phillips
Don't forget that you can keep up-to-date throughout the season by clicking here.
Robert Lewandowski wins his first Golden Shoe
Bayern Munich's Robert Lewandowski has beaten Cristiano Ronaldo and Lionel Messi to the 2020-21 European Golden Shoe. The 32-year-old claimed the award for the first time by scoring a record-breaking 41 goals in the Bundesliga. You can read more here.