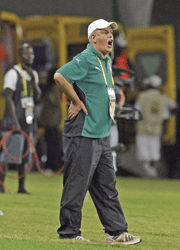 World Soccer: Does this team have the potential to produce the same results as the side that upset West Germany at the 1982 World Cup and produced such a fillip for African football?
Rabah Saadane: It's difficult to say because this is not the same context and nor will it be the same conditions. Algeria arrived at that World Cup as an unknown country from Africa, but the World Cup today is played under completely different circumstances where the whole world knows everything about everyone else. Practically there are no more surprises anymore. Plus we have been drawn into a very difficult group with very serious adversaries, notably the English and Mr Capello, so it's difficult. What really concerns us is to play well, and without pressure or any complex so that we have a chance in this difficult group.
Was reaching the semi-final at the Nations Cup in Angola good for your team's confidence?
Yes, the image that we gave with our performance at the Nations Cup can be seen as very positive, although there were a few negatives mixed in there as well. What was really positive, though, was that we were able to have the team together at a time when it was not possible for many other countries, according to the FIFA calendar. It was exceedingly positive to be able to work together for more than a month and it permitted our coaching team to evaluate the players in the context of a tournament situation just a few months ahead of the World Cup finals.
There have been many players knocking on the door who did not get a chance to play in Angola. Are there any players who did not make the Nations Cup squad but have a good chance of playing at the World Cup?
Yes, for sure. The door to the national team is always open to the best Algerian players around the world, both those playing in Algeria and those playing outside the country. I think we still have the time to look at other talent. We had a few new players for the match against Serbia after the Nations Cup finals and there will be a full month of preparations where we will be able to look at others. We have launched a large bid to reinforce the team [Saadane went on a scouting trip across Europe to look at several previously uncapped prospects]. We are looking for players of a high quality to reinforce our team.
Nadir Belhadj misses the first game in South Africa because of a suspension picked up at the Nations Cup. He is a key player, so what sort of impact does that have?
I don't think it will be a problem but I'm not so sure about our goalkeeper [Faouzi Chaouchi] who was also red carded at the Nations Cup.
How keenly are you looking forward to the prospect of your World Cup group, particularly against England?
England have, since the arrival of Mr Capello, been placed as one of the favourites for the World Cup. If you look at the statistics they are the team who scored the most goals in the qualifiers, and on top of that Mr Capello seems to have forged them into a formidable combination. I believe that they will be a big revelation at this World Cup.
So are you saying there is no chance for Algeria to beat them?
As I've already said, we will be playing without pressure and without much expectation. But we need to also play without fear against these big teams like England. We want to show that we can play good football. We are back at the World Cup after 24 years and that, I think, is our primary objective. But there is no reason to believe that we cannot pull off a shock result. Why ever not?