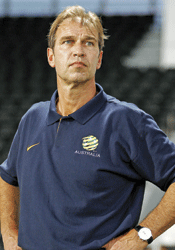 World Soccer: How do you see Australia's group?
Pim Verbeek: It's a tough draw but Australians always see such things as a challenge and I do too. It's difficult but a big challenge.
And you could face England if you make it to the second round…
I'm not thinking of that yet. I can understand a lot of Australians talking about it with their connections with England and the popularity of the Premiership, but I'm not talking about it. I'm focusing on the group and the first game against Germany.
Is it an advantage having worked in Germany?
We will be prepared. We know enough about the Germans, we will be ok.
What would be a good World Cup for you and Australia?
The target we have is to make the final 16. From then on, in football, everything is possible. The knockout stage will be different to the group stage. Like most of my colleagues, we will go for the final 16 and then see who we have to play against. What we would like, and what we would hope, is to do better than last time. Our target is get to the final 16.
Is there a frustration about last time, when you were unlucky to lose to Italy in the second round by a controversial penalty?
No, because I was not there! I was nothing to do with that World Cup. I have no feelings about that. That was four years ago. In 2010 we have new players, new staff, new everything, it's a new challenge. People still talk about 2006, that's normal, but not me, I was not there.
But it's basically the same team as 2006?
No, half of the team, half the selection of 23 were not at the World Cup in 2006. It will be a totally new selection. Half of the team was there in 2006, that's true, but the other half will be at their first World Cup.
How do you get to see all your players in Europe?
I'm based in Australia and I am travelling around so for the four or five weeks before the World Cup I will be in Europe. But we have players in Japan also as well as China and the Middle East. So there's a lot of travelling, but it's an advantage that my players are playing in Europe's top leagues.
Is it a concern that some are on the bench at their clubs?
To be honest, at the moment, I have too many players who are not playing. The good thing is that they don't get injured but I would be happier if they were playing more. With most of the players, I can understand why they are not playing because they are at clubs with big squads and at clubs that are doing very well. I know my players, I know what they can do, even if they are not playing regularly. I still know what they are capable of.
Will you be prepared for the conditions in South Africa?
I have learned from the last 12 years in international football that it is better to spend energy on things you can change than spend energy on things you cannot change. I can't do anything about the climate. I can't do anything about the weather. We know that playing at altitude is different to playing at sea level. But it's not a concern because I cannot change it. My concern is to pick the best 23 players.
How do players cope with the boredom at tournaments?
That's part of being at a tournament. With a squad of 23, you have some players who have no problem being inside for four weeks and others who are desperate to go out for a cup of coffee and see some other people. That's the way it is, the World Cup is the biggest sporting event in the world. You have to focus on what you have to do and keep an eye on which players need distractions. One thing we will do is switch venues. We'll start in Johannesburg and then we go to our official venue. I don't see any problem with the Australian mentality.
You were Guus Hiddink's assistant with South Korea in 2002 when the emphasis was on physical conditioning. Will you do the same with Australia?
No it was very different with Korea. The whole preparation was different. We had the players for five months before the tournament. Five months! Now we'll have them for three weeks. Like most national team coaches I have to wait until the European leagues are finished. It's a totally different situation. In 2002 the national team was like a club team for five months, so you could make a plan. With Australia the plan is in my head and we will have to wait until May 19 to find out if my players are available.
How has the move to the Asian confederation been?
It's been a challenge to play in China, Japan, Uzbekistan, the Middle East. Even though the players are spread around the world, with all the time differences, it has never been a problem. The good thing about Australian footballers is that they never complain, they see everything as a challenge. We played a lot more games [than in the Oceania qualifiers] so I've had the chance to see a lot of new players in tough circumstances. It's difficult when you play against the Fiji islands because you still have no idea whether a player can play at a World Cup. I now have a much better idea about whether my younger players can do a job for me. It's a really good decision by the Australian FA.
How is the mood in Australia towards soccer?
It's growing every year. It's more and more popular with the fans. When I started we had eight clubs in the A-League. Next year we will have 12 clubs. So we have more fans every year. Every year, more national team players are returning to play in the A-League for the final three or four years of their career. The A-League is a good league and it is getting better. Ok, we know that the other sports have more history but that hasn't affected football. People have started to understand, especially around World Cups, that football is the world's biggest sport.
Who are you favourites for the World Cup?
I can mention eight teams. From Europe, there's Spain, England, Italy, Germany. From the South American teams, it's always Brazil and Argentina, you should never underestimate those teams. And there's always a surprise. Every World Cup has a surprise. I should also mention Holland because if you see their quality of their players, there are capable of a good result. It's not just about quality, it's also about having all the key players fit, refereeing decisions, individual mistakes from a player.
What's your future after the World Cup?
I will leave Australia. Two and a half years is enough. There is no reason to stay. We qualified for the World Cup, we qualified for the Asian Cup. Two and a half years of flying around the world is enough. It's time for something new. I will be the technical director of the Moroccan federation.