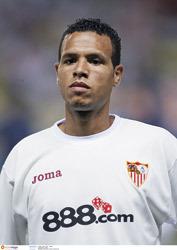 World Soccer: Sevilla have won the UEFA Cup in the past two seasons and now are through to the last 16 in the Champions League. How far can you go and how big is the gap between the competitions?
Luis Fabiano: The team have made huge progress in the past couple of years, we are now used to big matches and situations that require big decisions. Therefore, I'm sure we are ready to continue our good campaign in the Champions League. Obviously, the quality of the teams is much higher than in the UEFA Cup. But I don't think we will look out of place in the knockout stages.
What are the main ingredients of Sevilla's recent success?
The planning that has gone into the team has been most important. The board has built up a great squad here with the specific aim of getting back into European competition and winning titles. They signed the right players at the right time, and our head coach [formerly Juande Ramos, now Manolo Jimenez] has made very good use of the resources available to him.
You had a less than happy time at your first two European clubs – Rennes and Porto.
My first experiences of European football were not what I had hoped for, but it served as a learning experience. Now I am really enjoying life and enjoying my football. I love the city of Seville, I love the club – I have won two UEFA Cups, and I am just focused on continuing to help Sevilla achieve their goals.
Why has it been so different for you at Sevilla?
I believe that the patience shown by both me and Sevilla in terms of allowing me to settle has been the key factor. My first season wasn't very good, if I am honest; the second was a lot better – I scored 15 goals and played a decisive part in a number of important matches. And now I feel that I've started my third season in great fashion [he was the Spanish League's top scorer with 16 goals at the start of February]. With the previous teams that I played for, I was never given this period of adaptation.
Are the styles of football in Spain very different from those of Portugal?
The Spanish game is more technical, and that suits me. I think, actually, that it is a lot more like Brazilian football. Don't get me wrong, the level in the Portuguese Superliga is very good, but I always dreamed of playing in La Liga.
Have you had to adapt your qualities as a player to cope with European football?
Not too much. My game is a mixture of Brazilian technique and the physical strength needed in Europe. I love to get into the box, I am pretty quick, and I can score with either foot.
You were once described as the bad boy of Brazilian football during your time at Sao Paulo. Do you feel you have now completely rid yourself of that label?
Nothing ever happened easily in my life. I have always had to fight hard for the things I wanted, and I have managed to turn things around in my career several times. I think I have shown that at Sevilla.
It must have been a big relief that your compatriot Daniel Alves stayed on at Sevilla, when he had looked destined to join Chelsea. How important is he to the team?
Daniel Alves is an excellent player, and very important for us, especially when we attack. He's very good defensively but you'll also often see him joining in our attacks and getting to the other end of the pitch to put in great crosses. He creates lots of other scoring opportunities for us.
What about another compatriot, Julio Baptista, whom you replaced at Sevilla. Why do you think he struggled to make an impact at Arsenal?
It's difficult to say. But he didn't seem to get the chance to play many games in a row, as he did at Sevilla, and that may have had a negative impact.