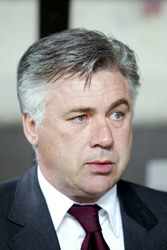 World Soccer: Given suggestions that the current Milan team is getting a little long in the tooth, how are you feeling about the new season?
The mistake that everyone makes is to think that this is an old team, but I say that perhaps we haven't even reached full maturity yet. I am happy that people think that. We have players such as [Massimo] Oddo and [Marek] Jankulovski who were in their first season in [the Champions League] last year, and then we have a backbone to the team, guys such as [Gennaro] Gattuso and [Andrea] Pirlo, who are just now at their full maturity.
When I look forward to this season, I get a distinctly positive feeling. Our win in the Champions League was a huge stimulus, it has done so much for us.
So, what lies ahead?
We start off every season wanting to win everything but the Champions League is something special, it's part of our DNA. The gap between us and Inter of last season has been wiped out.Right now, Inter, Milan and Roma could all win the title, while Juventus, too, could yet play a role.
Just how special was that win over Liverpool in Athens?
It's always our hope to win the Champions League but last season we pulled it off in the midst of many difficulties. At one stage, there was the risk that this Milan might have finished its cycle, but the players came good.
The turning point was undoubtedly the second leg away to Bayern Munich [in the quarter-finals; Milan won 2-0, 4-2 on aggregate]. For me this was the most difficult Champions League campaign of all but for that reason the most satisfying, the best win of my career.
Looking back on the Champions League final defeat to Liverpool in 2005, what are you recollections?
For me that was one of the best games ever played by Milan under my coaching. Certainly, it was as good a performance as our 3-0 win over Manchester United last season [in the semi-final second leg]. If I think back on the game in that way, then I feel much less sad.
Everything passes – maybe it would have been worse to have won in Istanbul and lost in Athens. Perhaps that was the price we had to pay, losing in Istanbul.
With Ronaldo suffering a thigh injury in pre-season training; Alberto Gilardino out of form; and Pippo Inzaghi not getting any younger, are you concerned about your attacking options?
Ronaldo's problems are a short-term thing, we'll sort them out. As for Gilardino and Inzaghi, I'm more than happy with them.
How does 18-year-old Brazilian Alexandre Pato compare with established Milan superstar and compatriot Kaka?
Pato strikes me as much more timid than Kaka, but in training he surprises us with amazing things, just as Kaka did at the same stage. Pato will be very useful for us, he can play with all of the other strikers because he puts himself about a lot, looks to shoot on goal and also looks to lay on the final pass.
Your admiration for Kaka, arguably the most important player on the road to Athens last summer, is no secret.
Before a match, I never tell Kaka where to play. He handles the situations himself, he decides whether to move forward or back 10 metres. He follows his instinct, and that is just fine by me.
If they don't give Kaka the European player of the year award, I'll go along to the offices of France Football [the magazine that organises the vote] and chain myself to the railings.
Is there still a role in the team for 39-year-old talisman Paolo Maldini?
He brings so much quality and experience to the team. He is everything …he has his place on the team because he deserves it, and he knows that.
Given club owner's Silvio Berlusconi's penchant for sticking his nose into footballing matters, is he not a problem for the coach?
We talk often, he keeps himself constantly informed about the team, but he has never imposed anything on me and he would never do it because Berlusconi is an intelligent man.
For Milan, Berlusconi is everything, he has set the bar for the club, laid down the rules of behaviour and determined the club's philosophy. He is absolutely not a heavy presence, he's very rarely here. Indeed, if he were here more often, it would be easier for me to train this team.
I have been lucky to work with clubs that gave me time, such as Parma, Juventus and Milan. But then, the results help too.