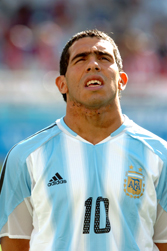 World Soccer: Was it difficult to adjust to English football?
English football has more pace than technique and I always knew I would have to be pretty physical to compete against the defenders I would face. But I think I did pretty well when I had a consistent run in the team, especially at the end of the season, when I started about 10 games. I was helped because, by then, obviously, my team-mates knew me much better than at the start of the season. When I first arrived at West Ham it was like starting my career all over again. I had a big reputation in South America but here almost nobody had heard of me. I had to prove myself as a player and as a person. Those first two months were awful.
What went so wrong for West Ham at the start?
Honestly, it was a big surprise for me because I recognised at once that we had some very good players. I think the fault lay with the entire team – me included – because we did not expect to be fighting for survival down near the relegation zone. Thank goodness we cleared our heads in time to get back on the right track and stay in the Premiership.
Was it a problem for you when Javier Mascherano was transferred to Liverpool?
It was hard finding myself on my own because Mascherano is not only a terrific team-mate but also he and I have been friends ever since we played together in Argentina's Under-20 squad and then with Corinthians in Brazil. But going to Liverpool was the best thing that could have happened for him. He wasn't happy at West Ham, he was really depressed because there was no place in the team for him. I was thrilled that he got to the Champions League Final.
How did you get on with the fans?
The people are terrific. You can go out and they respect your privacy. It had been five years since I was able to do a simple thing like take my daughter out to the park. In England, very few people come up to you; back home, they really get in your face. You have a lot more peace here because people don't get as worked up as they do in Argentina.
Why do you think the supporters took to you the way they did?
I think because I play with my heart on my sleeve. That's the sort of person I am. I think the fans appreciated it. I gave 101 per cent to every ball I played.
What was the biggest surprise for you about English football?
Seeing the fans so close to the pitch, close enough to reach out and touch the players, without fences. You couldn't play in Argentina without fences, there would be too much violence.
Why did you jump into the crowd when you scored against Tottenham?
It was just that the West Ham fans had been brilliant – even though Mascherano didn't play much, they always cheered him in the warm-up or during the game. Then they used to chant my name for me to be brought on as a substitute until the manager gave in. The way I went into the crowd was a big thank you for the support.
Will you stay at West Ham?
I don't know. I'm very happy with the Hammers, they've been marvellous to me. I'll never forget the last match of the season, our win at Manchester United, when our fans started chanting: "Argentina! Argentina!" For someone like me who had a relative who fought in the Malvinas [Falklands] and who knows the feeling that existed after the war, it was incredible to hear that chant. I was amazed that I could be an idol for English fans. It made a huge impression on me.
Do you expect to move on to a big club on the Continent – maybe Real Madrid, if the rumours are to be believed?
Moving to Madrid would be exciting but I don't mean anything by that. I would like to play for an important European club. That's what I told my agent and Kia Joorabchian, who is in charge of my transfers. But the priority is what suits West Ham. They've always treated me well. Really, there isn't one club that appeals to me more than any other.
How do you get on with Joorabchian?
Kia is "el dueno" – the boss – of my transfers, he influences me a lot in decisions, although we talk about everything and decide between the two of us. He was the one who took me to Corinthians and then to West Ham. But he is also a friend and we spend a lot of time together. He gets on well with my family.
One of the first visits you made when you returned to Buenos Aires was to Diego Maradona's home. How was he?
Everyone wishes Diego all the best. He's like a reference point for Argentines and we have to look out for him. But also we must not forget his family, his daughters and his friends. When you're a successful footballer the media flock around you, but Diego is always followed by controversy. I owe a huge amount to Diego because he helped me become what I am today. We should all let him live in peace.