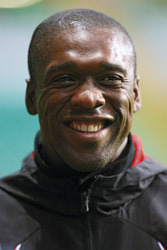 World Soccer: How did you start out playing football?
Clarence Seedorf: As a child I remember playing outdoors a lot with all my friends, and then at school in Amsterdam until I was 16. I had a good time but I realise now it wasn't easy for my parents because they both had to work and we certainly didn't have a luxury lifestyle.
Tell us about your parents.
They both worked in the health service. My mother was a nurse and my father was a specialist in nutrition for new-born babies – so, looking back now, there was always a social concern background in my life. A lot of family members helped out because they came over from Surinam to find a better life in Holland and stayed for up to half a year before finding somewhere of their own. My father came over first. In fact, I didn't see him until I was two and a half because before I was born [in Surinam] he came to Holland to create a new home so the family could join him. Maybe this is one reason why I have always been content with the small things in life. My upbringing taught me to live very serenely because back then I really did believe I had everything – my friends, laughter and love, and my family.
How did you cope with fame as it engulfed you?
Once you become a well-known personality your normal life is at an end. When people get to know about you it all stops. For me, learning to cope with that was a natural process. It's nice to be able to give back happiness to people through what you achieve. Of course you can achieve privacy sometimes, but it's a different sort of privacy. You can't carry on as if you don't care what people think about you. Every single thing you say, every move you make is being watched, and it's a responsibility with which I've never had a problem. I've always tried to be conscious of the way I live my life – knowing my responsibilities as a role model and making sure I don't do things I could have done if I hadn't been famous! But I don't find this stressful in any way. I think I cope quite well.
You came through the renowned Ajax youth system. Does it still function as well?
It's changed a lot since my day; they don't put the same attention and energy into it. In my time we had high-quality coaches who made a personal difference within the system. Bringing through the best talent was the main focus, the core business and an important contribution to the overall sporting community of Amsterdam. Now you often see youngsters choosing other clubs. But I had a great time there – particularly with the opportunities to travel to play in Belgium, France, Germany and so on. It was a great life experience, becoming an international representative and, for example, living for three or four days with a family in Germany, learning another language. These may seem little things but it was experience money couldn't buy. A great deal of what I am today, a world citizen if you like, is down to the fact that I was confronted with those situations very early in life. Of course, I only did six years because I came through into the first team very young, but maybe it's because my experience was so intensive that it was so very, very good.
You went to Italy, to Sampdoria, but for barely a year, and you had a stand-off with the club before you went on to Real Madrid. So was Sampdoria a bad move?
No. Quite the opposite. It was a great education for me to adapt to being out on my own and not having the "system", as at Ajax, to fall back on. I had to learn all about a new culture, a new way of playing football and a new lifestyle. It was a completely new picture, which helped me grow up in my personal life and as a player before Fabio Capello convinced me to come with him to Madrid. From that point everything just kept getting better and better for me. Sampdoria's coach was Sven Goran Eriksson; he helped me a lot. He was a very good "life coach" for me; a very special man.
Your time at Real was just before the galacticos era. Talk us through your Madrid years.
Capello was coach for a season then Jupp Heynckes and Vicente Del Bosque. We won just about everything there was to win after 32 years in which they had not won the European Cup. Madrid had had a really bad season before Capello and I came in; we did not even play in Europe in my first season. But we came in at the same time as a lot of other players who were hungry for success, great personalities, great talents. So we made a great start. While I was there we won the Champions League twice – I wasn't there for the second win but I played the first half of the campaign – one league title, World Club Cup, Spanish Super Cup. So we had a lot of highs, great performances, great players and laid the foundations to make the marketing step, as you might call it, for the galacticos.
Predraj Mijatovic was a team-mate; now he is the sporting director at Madrid. Were you surprised when he got that job?
No, I knew he would go on to something like that. He is a good friend of mine as well as having been a colleague, and though we're at different clubs now, I hope he does the job well and stays in it for a long time. He was always highly committed and a terrific personality; a great Madridista.
Is there a lot of pressure from the fans in Madrid, in particular, not only to win but to win in style?
All the big clubs are mostly like that. That's also why it's so beautiful for any footballer to play for those clubs. Spain is a great place to be. Madrid was a great period for me, I enjoyed both the life and the football; it's one of the cities I love most in Europe. I had a great experience there. I gave a lot to them but they gave a lot to me. It was a very, very important period in my career.
You've been at Milan for nearly six years now, but before that you hadn't stayed very long at any club, had you?
That's what I thought at one stage: I had three years as a senior at Ajax, one year at Sampdoria, three and a half at Madrid, two and a half at Inter. But then Ronald De Boer told me he thought three years at one club was quite a long time the way the game is nowadays.
So players such as Raul and Iker Casillas at Madrid are the exception now, aren't they?
Yes, but they are in a different situation because Madrid is also their home. They grew up there. There's Guti of course, as well. Roberto Carlos stayed for eight years. But if you look at the Madrid team now only three or four have stayed a long time.
Was the move from Inter to Milan difficult?
It was a delicate move but it was the best thing for me. I think people understood my situation so I still have a good relationship with Inter right up to the president, Massimo Moratti. It hasn't caused problems. I think that's because I have always respected everyone in the game. I never speak badly about opponents or opposing clubs. Even when I was at Madrid I behaved the same. So the fans at Barcelona never whistled me or gave me any problems in the city when I went there. People respect me in the street. It's the same with Inter and Juventus fans. It's how you build your life and career. Wherever I have been, people always receive me back with open arms, and I'm proud of that.
You're 32 now. Are you planning to end your career with a club back in Holland?
No, I don't think Holland is an option. I've reached another place in my career and my life. I have a contract at Milan until 2011 and I intend to respect that. My focus is here. Let's see how it develops. In football you can never say never but, normally speaking, I should be here to the end of my career.
What is your attitude towards racism in football?
I have never paid much attention to racism in sport because I don't believe it's so much about racism as education.
But surely it can't be easy to ignore whatever is being thrown at you, both literally and verbally?
Look, even that is a lack of education because it's a small group of people expressing a particular kind of feeling, and I think the more you ignore them, the less power you give them; the more you react, the more energy you give them because then they see their actions as a success.
So more publicity about the fight against racism is counter-productive?
Yes, I strongly believe that. Let's take an example: if a child behaves badly when you are on the phone and you hang up just to give him attention then the next time he will do the same. OK, maybe that's not the best example. But I haven't really seen any change in behaviour despite all the media attention on the issue in the football environment. We should all pay more attention to the positive things not the negative. And that includes the players.
Is it because bad news sells papers?
I think it's more a habit than anything. People are not given a choice about what they read. Look at how the crowds at the Olympic Games are portrayed – I imagine some negative things happen within those crowds but you never hear about it. I hope to see this for myself by playing for Holland at the Games in Beijing. The possibility is there, so hopefully I will get the chance. It would be my first Olympics and a long summer but I'm ready for it.
Looking beyond your playing career, you'll have plenty to keep you busy with your own charitable projects, won't you?
I'm involved because I believe I can make a change for the better in the world. I feel I have a mission in life to give something back, from a social point of view, so all the projects are in line with my values and mission. I have a human resources company called ON International through which we support a Champions for Children foundation which helps underprivileged kids around the world – Kenya, Brazil, Cambodia, Surinam and so on.
When did you become aware that the high-profile nature of your career offered a platform for such work?
I was quite young when I became aware of what I thought was my purpose in life. Giving something back is the most wonderful feeling you can have. So that's what I'm trying to promote. Peace and love and education in a practical way, not just words. These projects are ongoing and will be there even when I'm not here any more. That's what I want to leave: a legacy.