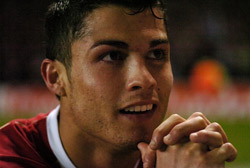 World Soccer: You have had a long and hard season. Can you maintain your outstanding form into the Euro finals?
Cristiano Ronaldo: Yes, it has been a very demanding season but all the work I have done throughout the season has been with the knowledge that I would be going to the European finals at the end of it so I expect to be at 100 per cent.
Is there any difference between the way you play for your country and for your club?
I don't believe so. I do not try to give anything different to one team than to the other. Obviously, when you play in different teams in a different context then the matches will be played differently but that's not a personal thing.
Would you like Luiz Felipe Scolari to stay on as coach for the World Cup qualifying campaign?
If it were up to me I would be very happy for him to carry on with the job. Of course, it's not my decision.
How do you assess your campaign so far – with the European Championship and the Champions League Final to come?
I would say already that this has been the best season of my career but that has not been a matter of good luck. I've worked hard to improve technically as a player and physically as an athlete. The reward, for myself and my country and my club can be counted in the goals
I have scored.
Do you still encounter any backlash from the quarter-final against England at the last World Cup?
That's now a long way in the past. Football moves on. A great deal has happened since then. Having said that, the reaction from some people just served as a motivation for me to do even better than before. I have no regrets, if that is what you mean.
And you're happy now at Man United?
Of course. Everyone must know that by now.
How do you cope with being perpetually under scrutiny by the English media, in particular the tabloids?
I've become accustomed to the stories that get made up about me. It's not an issue.
Suddenly, it seems, you have emerged as a free-kick specialist to earn comparisons with your United predecessor, David Beckham. What is your secret?
There is no secret. Like most things in my career it's all a matter of commitment, dedication and hard work in training. Also, of course, when these things work out for you then that gives you more confidence. It's a self-fulfilling aspect of football.
If Portugal win in Vienna on June 29 it will be their first major senior title.
Can you do it?
We have every chance. We will work to achieve just that, the best possible outcome. There is no point going otherwise.