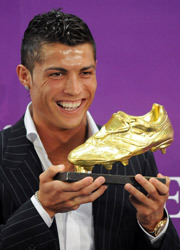 World Socer: You could be the first player to win a clean sweep of Golden Shoe, Ballon d'Or and the World Player awards. How does that feel?
Cristiano Ronaldo: It's wonderful to win the Golden Shoe, it's a great honour. Especially because my position is a winger. Normally strikers win this award so it's amazing for me to be part of it and to be mentioned alongside the great players. As regards the decision of FIFA, I'm not worrying about that too much. I feel very good to win the Golden Shoe, I'm very happy.
If you had to choose somebody, who would be the best player in the world right now?
Cristiano Ronaldo! No, not really! I don't know. Last season I was one of the most consistent players in Europe; this is why I am so comfortable. I've now won the Golden Shoe and UEFA voted me the best player in last season's Champions League. It's been amazing. You have a lot of great players in the world, but I was the most regular player last season.
What are the remaining ambitions in your career?
I'm looking to be one of the best players ever. I'm only 23 years old, I've got lots of years left. I want to be remembered as part of the group of the greatest players ever to win awards, to win trophies, to win medals. And I want to keep going like that. I feel good, I feel in good shape and I want to win – and not just this season but every season.
So does your club come before your country?
I want both things. With Manchester [United] to win the Champions League again and the League, and, of course, for Portugal to win something important like the Euros. It's not just my dream, it's Portugal's dream as well. We have a good spirit, we have good players, but you need to take your opportunity. You need that to win a big trophy. It's difficult but I think it's possible.
You wanted to receive the Golden Shoe here in Madeira. What makes Madeira so special for you?
Well, I was born here, my whole family are from here. So it's always special for me to come to Madeira to see my family, to see my friends, to see everybody, and I always said that if I ever had the opportunity I would chose Madeira because it is my place, this is where I was born. ESM gave me the opportunity to choose [where I received the award] and of course I chose Madeira. It's beautiful, the people are nice and I feel very proud of Madeira.
Do you think you will come back here to live when you retire?
Of course. My whole family is here. My mum lives here, my sisters, it's a great place, I love to come here. I don't have many opportunities to come but when I do, I love it. The weather, the people, the water, everything is fantastic. I arrived here yesterday from Manchester where the weather was very bad. When you arrive you notice the difference. It's a lovely place, not just because I was born here.
It seems Portugal and United have missed you. Is that true?
I don't think so. Some people have been saying that Manchester and Portugal lose because they don't have Cristiano but last season we started badly in the Premier League and I played. I wanted to come back quickly to help my team-mates, to help my team. I love to play football and when I'm not playing I feel very, very bad. Football is like that sometimes: you win sometimes and you lose sometimes. This is life, you learn from that. I believe we can win the Champions League and the League again because we have a great team and great players. Portugal is also the same. I want to come back for the Portugal national team but I think the qualifying campaign is long and we have the opportunity to do a great job.
Portugal has had many great players since Eusebio – such as Fernando Gomes and Luis Figo – but nobody has emulated him. Are you prepared for a time when you might be considered Portugal's greatest player?
Of course it's important to represent my country well but I don't need to be compared with any other players. It's amazing to be compared with these great players you mentioned but I want to be part of world football – not just in Portugal because I am already part of Portuguese football. I want more. My ambition is to win more things and stay part of history after I have stopped playing. If I can keep going like that, things will keep coming naturally.
You left Madeira at quite an early age. Was it hard for you to leave home so young?
I left my family at the age of 11 or 12 years old. That was a very difficult time for me. Now, nothing is a problem for me. When I moved to Manchester at 18 I didn't speak the language but it was no problem because I had experience [in Lisbon] so when I arrived there it was not so difficult for me. My adaptation was not easy but it was a good adaptation. It's always difficult when you're young and you have many things to learn and I am always wanting to learn. This is why I like to learn. I don't know everything about football or about my mentality. I want to learn all the time. Last season I had a great season, this season I will try to do better if it's possible.
How long did it take for you to settle in Manchester? Have you now reached a point where you are comfortable there?
I feel happy in Manchester. My challenge is always to do better than I did the previous season. I'm quite happy there, I like the league, I like the club, but sometimes you want different things in life. You want new challenges. I don't say I want a new challenge this season, but it's always good for your mind, for your career, to have other things to do and other things to win. This is what I try to do. If I stay in Manchester, I try to do the same, I try to win the trophies again.
What was your dream when you were a child?
When I started in Madeira, my mission was always to be a professional footballer but I never dreamed I would be at Manchester United at 18 years old. It was amazing for me. But my ambition is always to play well. I remember when I was young the opportunities came along and I took them. I moved to Nacional and I played a few years there – two years – and then I went to Sporting and the opportunities kept coming. And when I arrived in Manchester everything happened very quickly.
Your life has changed incredibly over the past 10 years. How do you cope?
Well, it's been change for the good. When you change in a bad way it's more difficult. My house is better than 10 years ago, but this doesn't change my character, my mentality, my ambitions. I'm still the same, whether I've got one million in the bank or nothing. My personality is still the same: it's to play football, to enjoy my life. This is what I try to do all the time, to enjoy life. Not because I have more money than I did 10 years ago. I don't change anything.
What do you think you would have done if you had not become a footballer? Did you have a "Plan B" as a child?
That's a difficult question. My ambition, my focus, has always been on football. When I was five, six, seven, I always asked my mum for a football as a present. It was never a bike or computers or Game Boys. I never asked for any of that. It was always a football, just a football. So my ambition was always to be a professional footballer. This is why I think I am like that. I don't know what I will do in the future. My focus has always been football.
Is the ball still a toy? Or has it become a working tool?
No – it's still a toy!
It is clear that you are very close to your family. How much of your success as a footballer is down to their support?
I've had support from my whole family. If my family hadn't supported me when I went to Lisbon at age of 11 then I wouldn't now be Cristiano Ronaldo the professional footballer. My mum gave me that opportunity. My father and my sister said if you want this opportunity to improve your life, try it. Maybe another family would have said no, stay here, you're young, you have to stay here with your brothers, with us. It's quite a difficult situation. I have to say my family gave me all their support, they've helped me a lot, in good times and bad times. That's why I'm here now.
Do you need to have a mental strength to cope with life as a professional footballer?
You have to be strong mentally. When I arrived in Lisbon, for the first year I cried every week, but that's why I say my family helped me a lot. People from Sporting, my friends, directors, everyone helped me. I'm always focused on doing well in life and many people have helped me and that's why I'm where I am today.
Is life easier or harder playing for a club like Manchester United?
Well, it's always good to play with great players. Manchester has a lot of great players. To be honest, I think you just try to do your best to help Manchester. For me every season is a new challenge. Five years ago I arrived in Manchester and I played well. Then the next season I played better; the third season better still. I've always tried to improve every season. This season I will try to do the same. It will be difficult because last season I scored so many goals and won a few things. If you have good players around you it helps. I think I am with the right club at the moment. I play with the right players. Everything is natural. I want to win again.
Part Two of this interview will appear in next month's newsletter.
Give a subscription to World Soccer for Christmas this year and you'll save up to 31%