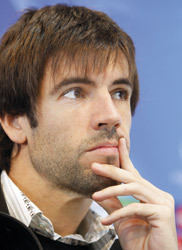 World Soccer: Let's start at the beginning. You've won two league titles and a UEFA Cup with Valencia, you've been to two European Cup finals with them, and you're the most successful captain in the club's history. You were playing week in, week out and yet one day, just like that, the club told you they no longer wanted you.
David Albelda: If it had been a sporting decision I wouldn't have had any problem with it; no player is eternal. But I don't like the way it was handled.
Everything was fine; then one day, suddenly, I'm told to go. I was ostracised – I wasn't involved in photos or official events and I wasn't allowed to train with the rest of the first team. Under normal circumstances training is a step towards playing a match or being part of a squad. But when you know that you are not going to play a match however well you train, you cannot train in the same way, with the same intensity.
There have been weeks when the squad have had a lot of injuries but they've called up youth-teamers rather than pick us [keeper Santiago Canizares and forward Miguel Angel Angulo were also personae non gratae]. On Fridays, the squad would train at Mestalla [stadium] while we worked at Paterna [Valencia's training ground] all on our own – it was a new system designed solely to keep us isolated. Emotionally, it's been hard.
What did the coach, Ronald Koeman, say to you?
He told me that from now on I wasn't going to be part of his plans, and that was it. Nothing else. I asked him what the reasons were and he said he did not want to discuss it. The decision was taken.
What do you think the reasons were?
In sporting terms, I don't think there was any reason. I was playing until three days before, so that doesn't make sense. Under normal circumstances a player drops to the bench, he stops playing, or gets the occasional few minutes, no one says anything, and there is a gradual slide – it's a more natural process.
Players have cycles, too. But to be playing one day and then to be told you've got no place the next is strange. That's one of the reasons why I think it's not a sporting decision, that there is something behind it. There are many rumours but it's been months, we've even been to court, and still they've never been able to explain the decision.
Santiago Canizares, Miguel Angel Angulo and I have analysed things and we just can't avoid the conclusion that there's something hidden in the background. The club don't want to admit what it is because they know it's not a good enough reason to completely ostracise three footballers.
The fans can't help thinking that you must have done something to deserve it.
That's the worst thing, that doubt that surrounds us. I've said time and again that the club should have come out and said what the reason was but they never did. They don't seem to have specific reasons, so the only conclusion has to be that there is something personal behind it.
It appears that the decision was taken by the president, Juan Soler, rather than Koeman.
Koeman hadn't been here long and could be used to push through this decision. Other coaches who were more entrenched would not even contemplate accepting a measure like this. But we'll never know for sure who made the decision and why.
Were you a threat to Soler's power? Could that be the reason?
You'd have to ask him. But I get the feeling that he did not trust us because we were a little critical about his project on occasion: we'd gone from a Valencia that had fought for the biggest titles, that was a solid institution, to a Valencia that changed the entire system and did not even fulfil the minimum objectives of a club.
So you could say that Soler's decision to ditch the three of you was a way of silencing his critics?
Yes, more or less, you could say that.
But why not let the three of you go? Surely it's counter-productive to keep you at Valencia.
As we had long contracts and could see that we might be stuck in an uncomfortable position for a long time, I think they hoped that we would get tired of the situation and say "right, I'm off", breaking our contracts unilaterally [Albelda is under contract until summer 2010]. What we did was try to negotiate an exit but they were never prepared to talk.
That was why we ended up in court: it was the only way to force them to sit down and negotiate. I was conscious of the fact I had the European Championship ahead of me and that if I didn't leave during the winter transfer window it would be hard to make it into the Spain squad [and Albelda was not included].
Soler departed.
Yes, but he's still owner and the people in charge are still his people.
But then Koeman got sacked and you were allowed back into the squad. Does that change your long-term position?
Not really. I have been really damaged by this situation – too much to return properly. The club kicked me out and the people who are in charge now are part of that entourage, the new president is part of that group. I can't return properly with these people. I have a contract, so if they tell me to play I will have to; I'm obliged to. But for me, it will never be the same again.
How have the squad reacted? Are they divided over this? For example, it appears that your fellow midfielder Ruben Baraja backed Soler against you.
More than divided, I'd say the squad have isolated themselves; players do not want to be seen to be taking sides in a dangerous battle. I've been in football long enough to know which way team-mates will go in situations like this.
Ruben and I already had different ways of thinking. He supported the way Soler ran the club and had a good personal relationship with him, while I was the opposite. I was critical of some of the things Soler did. He liked to have a lot of contact with the players, to be involved in everything. Some players welcomed that; I didn't.
When Soler bought Valencia, they had just won two league titles in three seasons and in the two seasons before that had reached consecutive Champions League finals. Three and a half years later, he had been through five coaches, seven directors of football and even three medical chiefs. He had spent over €180million [£140m] on players. Yet you have won only one trophy – this season's Spanish Cup. Does that say it all?
I think so. That reflects the fact that the club have followed the wrong policy. With that much money spent on players, with the backing of the local council in things like the new stadium and the sale of Mestalla, to have not won anything [shrugs]…But it's not just that we have not achieved anything; it's that we haven't even been close.
We haven't even achieved the minimum objective for this club, which is getting into the Champions League. When they sacked coach Quique Sanchez Flores [in October last year] we were four points off Real Madrid; this spring we have been near the relegation zone. The Copa del Rey [Spanish Cup] win is important but that doesn't stop this season being a failure. We have to be in the Champions League, come what may.
What was Soler's biggest mistake?
He never knew how to surround himself with the right people, people who really know what they are doing.
But Valencia are a club that always seem to be in turmoil, not just under Soler.
True, but back then, even though there were problems – between, for example, the sporting director, Jesus Pitarch, and coach Rafa Benitez – everyone involved was serious and professional. There was a clear objective, and by focusing on that aim they were able to overcome their differences.
A dispute between a sporting director and a coach on a specific point is fine; that's normal, it happens at all clubs and can help you grow. But when you don't have a clear sense of identity and objective, those differences rather than being overcome get exacerbated and take on a destructive, institutional importance. That's what has happened under Soler. As long as the head of the institution remains the same, the problems will not end.
What are your options now? Are you keen to leave despite getting back in the squad?
For me to be truly comfortable here lots of people have to leave. It's very hard to continue; even going back into a dressing room with certain team-mates is hard. My aim is to get out as soon as possible. But as long as Valencia don't do anything about it, I can't even negotiate with anyone. I have to wait; I'm at the mercy of the club.
So have you felt like a prisoner in all of this?
Yes, completely. It's hard but as it doesn't depend on you, you just have to behave well, do your job and make sure there is no excuse for them to go for you.
Would you like to go to the Premier League?
Any Spaniard would love to try the Premier League. But to go to England there are lots of things you have to think about. You have to know that you're going to be happy and you have to be able to live there.
Have you spoken to those Spaniards who have played in England?
Yes, and they speak highly of the Premier League. But they do talk about the downside, too – going to England has to be all about the football because the customs, climate and cities are very different to Spain.