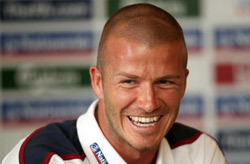 World Soccer: Why the United States – because of Hollywood?
David Beckham: I'd been as a tourist and always wanted to go back for longer and professionally. It's nothing to do with Hollywood. I've no acting ambitions. We're very happy here, the children have made plenty of friends, my wife has work here, too, and I'm enjoying the place and the football.
What's the standard of Major League Soccer?
It's higher than people in Europe think. Obviously, it has to improve still further before it can be compared with the top leagues in Europe but Los Angeles Galaxy would hold their own with quite a few teams in the Premier League. I came here to help raise standards. Everyone knows about the popularity of American football, baseball and basketball, and I would love to see soccer reach if not that
sort of status then close to it.
How close were you to joining Milan instead of Galaxy?
Very close. I thought the opportunity through seriously. After Manchester United and Real Madrid then Milan would have been another club for me of the very highest level. I've always been a fan of theirs and admired their approach to the game. But things took a different course.
What do you miss most about European football?
The passion which surrounds the game over there, though of course I've been spoiled and lucky: Old Trafford and the Bernabeu are unique places to play.
You have had Fabio Capello as a coach with Real Madrid and now England. Can he take England to victory at the World Cup in 2010?
Anything is possible. Fabio Capello is a coach with a winning attitude who knows what he wants from his team and his players. He wants his players to be winners and picks those whom he thinks can contribute the most to the team effort for any given match. It doesn't matter what they may have done and won in the past. Capello doesn't have second thoughts about leaving people on the bench or
in the stand.
At 33, and having won over 100 caps, you still appear to be as keen as ever to play for England even though other top players have retired from the national team.
I have always said I would never give up the chance of the honour of playing for my country if I was playing well enough and the manager thinks I can do a job.
What about the difference in standard between MLS and the World Cup finals?
There's been a lot of talk about this but I don't see it as a problem. Fitness levels are the same and my game doesn't change much – it's still about going wide and getting the ball into the penalty box. If you can do that well then the venue is immaterial.
Who is the best player in the world right now?
No doubt: Cristiano Ronaldo. He's played some incredible football as well as scoring all those goals.
You have been quoted as recommending that Ronaldo should not join Real Madrid. Why?
I didn't say I wouldn't recommend he goes to Madrid. What I said was that I think when you sign a long-term contract with a club then you should respect it and see it through. But it's his business. Whether the Glazers would let him go from United is another matter. Who knows? This is football. Anything can happen.
Are you amazed by the size of transfer fees being talked about for both Cristiano Ronaldo and Kaka?
The financial side of football now is such that nothing much surprises me any more. Kaka's also an exceptional footballer. Obviously, if clubs have that sort of money to invest, they will try to do so.
What have been the happiest and saddest moments of your career?
The happiest was 1999 when I won just about everything with Manchester United. The saddest was when I was sent off against Argentina in the 1998 World Cup. But that was also the moment which changed me as a person and from which, ultimately, I gained a lot of positives.
Why are people so interested in your private life?
You'd have to ask other people about that. In one way we're a normal family who like to do family things together such as taking our children to school and to play in the park. Obviously, in another way, we're not normal because of our professional profiles. I would never complain, though.
But you had your own heroes as a boy?
Bryan Robson was my hero. I suppose I was interested to know what car he drove or what he ate for breakfast. I know he drank milk and whisky. So do I – but without the whisky!
Who is the best footballer you've played with?
Zinedine Zidane, without question. It was a dream to play alongside him. He is not only one of the finest people in football but an incredible player. For me, the greatest of all time.
What does the future hold?
Working with children – we already have the Beckham Academy up and running in London and Los Angeles – and I also spend a lot of time on charity work. l