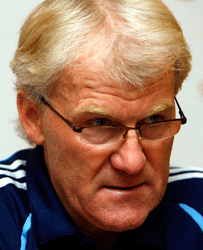 World Soccer: What would constitute a good World Cup for your team this summer?
Morten Olsen: The first target is to qualify from the group phase. That would be an excellent result for a little country like Denmark. To reach the quarter-finals would be fantastic, but I would never look that far ahead. We have very good players but so many things can affect the matches – mistakes by players, refereeing decisions – and they can help you or hurt you. That's the game. A good World Cup would be to show the world that we have a good team that plays well.
Who do you think are the favourites to win the World Cup?
Six or seven nations might win the trophy, but if you push me I would have to say Spain. They play such wonderful football, they have a fantastic record – one defeat in 45 matches – and they are the European champions. If it's not going to be Denmark then I would be happy to see a team with the style and quality of Spain as the World Cup winners.
How do you rate your group opponents?
Holland are surely the favourites in our group. Like all coaches I would say that we have a tough section, but it is surely true in our case. The Dutch are one of those countries who could win the tournament because of their technical skill and the quality of their players. We are fighting for second place with Japan and Cameroon. The Japanese are one of the best teams in Asia and were very good at the last World Cup. Cameroon are a strong and physical side, and their players are good tactically because they play at a high level with European clubs.
Do you have a coaching philosophy?
Yes, of course I do. You want to be a winner but I always like my teams to play attractively as well. The ideal is fast, technical football with good combination play. This is the trend in modern football, and it's good for the future of football. Look at Barcelona and watch Spain. They are fantastic to watch and they are winners. That's good for the game. What is good football? The answer is always subjective and people have their own views. Mine is that I prefer football to be good on the eye. As for tactics, well, it depends on your players and the opponents. You don't play the same away against Iceland as you do against Spain. You have to be ambitious, but realistic, too.
Will the autumn/winter of South Africa help the European teams?
Not just European teams but the whole World Cup. Most South American and African players are with European clubs now, and they are used to the conditions as well. There will be a faster pace at this World Cup and if the pitches are good we could see very good football, maybe better than the last two tournaments where the weather was so hot. In 2002 it was harder to play the kind of football we like. Maybe the stars of the tournament will be those who have had a break for injury and are not physically and mentally exhausted from having had a full club season.
Does it help to have been an international manager for 10 years?
Experience counts, whether as a player or a coach. You know what to expect, and how to deal with a big tournament. National teams tend to be two to three years older on average than club teams because they need more experience to compensate for playing together so little.
How good are players like Simon Kjaer, Daniel Agger and Nicklas Bendtner?
I hope they can be the future of the team. Playing in a World Cup will be a massive stage to show their worth.
Will Christian Eriksen go to the World Cup?
I am thinking about him. If he's good enough for the World Cup it doesn't matter that he is only 18.