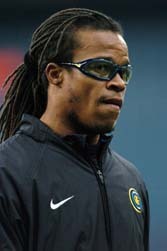 World Soccer: You were at Tottenham for two seasons before your return to Ajax this summer. How does the Premier League differ from the Dutch League?
Davids: In Holland it's almost impossible for a team like Ajax to lose to a team at the bottom, even if they play really badly. But in England when you play against a team at the bottom you know it's not going to be easy, you're not going to win 7-0. Every game is a battle, and that's what makes it exciting.
Ajax surprisingly lost to Dinamo Zagreb in the UEFA Cup first round. Were you too relaxed about the tie?
It's possible that we didn't take Dinamo seriously enough, but we also had two or three key players missing and it is very difficult to adjust in a short time frame to having those players out. Things have changed because now we have a new coach [Adrie Koster, replacing Henk Ten Cate, now at Chelsea] and he has some different ways of doing things.
What is Henk Ten Cate like?
It's very refreshing to work for him. He has an eye for every detail and wants to play attractive football. He has a very expansive vision. He was maybe 25 per cent responsible for the way Barcelona played [when assistant to Frank Rijkaard]. Rijkaard was also responsible for 25 per cent and the players for the other 50 per cent. He had a really big influence on the team and he is a big personality.
Were you surprised by his appointment as assistant to Avram Grant at Chelsea?
No. He is a top coach who has won the Champions League and was coach at Ajax. You can trust him to do a good job. He will make Chelsea a more exciting team. I don't want to take anything away from Jose Mourinho but they are different.
There seems to be dissatisfaction in Holland with the national team.
Every coach has his own methods, and if Marco Van Basten thinks Holland can be European champions playing the way they are then that is his opinion. Everybody in Holland wants to see attractive and efficient football, and we haven't seen that much lately. But he is the coach and has total responsibility. He has his own way of working, and if he is successful he will be proved right and everyone will copy that. Look at Italy. They have been successful playing in that way.
Will you go into coaching when you finish your playing career?
It is possible if the right opportunity comes along. Right now I am focusing only on getting fit and trying to have some success with Ajax but in the future I don't see why not. Sometimes I see people coaching and I scratch my head, wondering what they are doing. So maybe I could be a success. I would have a certain way of how I want to play and how I want to structure the organisation, because I have seen that at big clubs.
I have seen managers who have been doing well but because of the pressure placed on them by the club and the fans they don't have the chance to finish the whole process. Some teams need more discipline and structure, but at other times you maybe need to give the players more space and guide them. Also, you can't force a coach on to a team, because it's very difficult when your back is against the wall as a team and the club brings in a new coach. Sometimes clubs bring in a big-name coach for the sake of the fans, who want success, but that is not necessarily the best move long-term.
You played with Frank Rijkaard. Did you think he would become a successful coach?
I didn't think Rijkaard would be a great coach because he was not interested in it but he is very smart, very good at developing training methods and he has surrounded himself with the right people. He is also an excellent man-manager. You can't underestimate that quality. In normal society, in big corporations, that is a key part of management. So it should be in football.
Will we ever again see a young team with lots of home-grown players win the Champions League, as Ajax did in 1995?
It's hard to do that. On the one hand you have to give young players the time and space to develop and make sure you produce your own talents for the sake of the national team, but on the other hand, because there are so many talented foreigners, you create pressure at a higher level for them to compete. At Ajax it has always been the case that they produce great young players who move on. But that's not a problem because they will develop into better players and that will be good for the national team. When they leave, they create a space for another good youngster to come through.
Do Arsenal remind you of the Ajax '95 team?
Well, they're similar in that they have a lot of young players who have grown up together. They are young, inexperienced and play without fear, and that's a little bit like the way we were. They have top players, you can't deny that. We were talented youngsters, but they are already household names. Whether or not you are an Arsenal fan, you cannot deny at the moment that they are playing football the way you would like every team to play.
Do you wish you had done anything differently in your career?
I have no regrets. I had great experiences everywhere I've played and that has helped me to develop my character and has made me the person I am today. I played against the best players in the world in England, Italy and Spain and I think I can say I stood my ground and didn't embarrass myself.